Superheroes in the Kitchen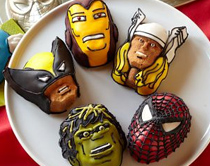 If your ideal superhero is one who fights crime, protects the innocent and… bakes, well then you're in luck. Disney's Marvel has teamed with kitchenware retail company Williams-Sonoma for a line of kitchen and bakeware products featuring Marvel's most popular superheroes including Spider-Man, The Hulk, Iron Man, and Captain America. The Marvel line is sold exclusively at Williams-Sonoma stores and online at williams-sonoma.com.
The Marvel line debuted in August and products include a Spider-Man Cupcake Decorating Kit, Marvel Hero Cookie Cutter Set, Marvel Cakelet Pan, and Flexible Spatulas. Unfortunately for geek girls, none of the products feature female Marvel superheroes like Ms. Marvel or Spider-Girl, but if your goal is to get a man in the kitchen, perhaps he can be lured with one of four superhero aprons available in adult and kid sizes and featuring Spider-Man, The Hulk, Captain America, and Iron Man.
Spider-Man and The Avengers have teamed up in a 12-page comic created exclusively for Williams-Sonoma to market the new Marvel products and Share Our Strength's No Kid Hungry Campaign, a national effort to end childhood hunger in America by 2015. In the comic, the superheroes battle the Frightful Four: Wizard, Klaw, Trapster, and Hydro-Man, while protecting a group of kids who are learning valuable cooking lessons from Jarvis the Butler. The comic includes Williams-Sonoma exclusive recipes for Web-tastic Sugar Cookies and Mini Turkey Burgers.
For more information on the No Kid Hungry Campaign, visit NoKidHungry.org.