The Pixar Girls Club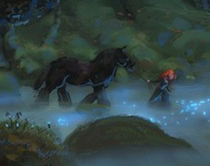 Although there's been little disclosed about Pixar's 13th feature (and 10th non-sequel), Brave, scheduled for release on June 22nd, 2012, the film is already eagerly anticipated. Pixar is branching into new territory with its first ever fairy-tale film, and if it's anything like Disney's recent Tangled or any one of Pixar's mega-hits, it's going to be fantastic.
Pixar's 16-year track record is exceptional, and even its weakest installment, Cars, garnered a respectable 74% approval rating on RottenTomatoes, a higher score than 60% of the Disney animated features released in the last decade. It's hard to find fault in a production company that dedicated to the quality of its storytelling and so consistently excellent that it produces hit after lovable hit. But one thing that's always vexed me is that not one of Pixar's eleven features (twelve, if you count Cars 2) has a female protagonist as the central character.
Brave is not only Pixar's first fairy-tale film, it is also the first to star a female character (she's a rebellious princess, my favorite kind!), and was the first Pixar feature to have a female director at the helm, although Brenda Chapman (The Prince of Egypt), was later replaced by Mark Andrews. Disney has said that both directors will share credit on the film.
Pixar fans shouldn't expect that the studio's first princess film will be a typical Disney-esq musical romp, rather Brave is being touted as a magical adventure film more in the vein of the Brothers Grimm than Cinderella. The film centers on a Scottish princess named Merida, a skilled archer who inadvertently brings turmoil to her kingdom when she defies a sacred custom. To set things right, Merida seeks out an eccentric Wise Woman and is granted an ill-fated wish. Brave's cast features some of the top vocal talents from the United Kingdom, including Kelly Macdonald, Emma Thompson, Robbie Coltrane, Craig Ferguson, Kevin McKidd, Billy Connolly, and Julie Walters.
Over the years, Pixar has given us plenty of memorable male protagonists, from the cowboy Woody (Toy Story) to the gourmand Remy (Ratatouille) and the crotchety Carl (Up). Despite the gender imbalance in their films, Pixar has given us some excellent female characters as well, and my favorites in the "Pixar Girls' Club" are listed below. I hope that next year Merida will join the list.
The Pixar Girls Club

Jessie


Toy Story 2
Toy Story 3

Jessie may be Sheriff Woody's sidekick, but she's also the rootin'-est, tootin'-est cowgirl around. She's fiercely loyal and brave, and she tries hard to keep her chin up, despite the tragedy of her past abandonment which is revealed in Toy Story 2's most heartbreaking scene.

Boo


Monsters, Inc.

Boo is only a toddler with a limited vocabulary and a fear of reptilian closet monsters, but she's adorable enough to inspire Sully and Mike Wazowski to endanger their lives (and careers) to get her safely home. Boo is also the catalyst for Monsters, Inc.'s transformation from terrifying kids to entertaining them.

Dory


Finding Nemo

Eternally cheerful and notoriously forgetful, Dory is a wonderful foil and traveling companion for Marlin in his quest to find Nemo. Marlin's companionship provides the stability that Dory needs for her short-term memory to be less pervasive, but it is ultimately Dory who teaches Marlin that he can be a loving father without being suffocating.

Helen Parr


The Incredibles

Helen Parr is the definition of a super mom, and in Pixar's most gender balanced film, she holds her own against her husband, Mr. Incredible. In addition to traditional motherly duties, Helen flies planes, fights crime, and serves as the ultimate role model for her children while helping them to become the incredible kids they are destined to be.

Edna 'E' Mode


The Incredibles

As a pint-sized fashion designer to genuine superstars, Edna 'E' Mode may only appear on screen for a handful of minutes, but she is hilariously unforgettable. Interestingly, the husky-voiced diva is actually voiced by the director of The Incredibles, Brad Bird, a dude.

EVE


Wall-E

All EVE, the Extraterrestrial Vegetation Evaluator, has to do to win Wall-E's heart is to shoot at him with her space laser canon. EVE is a sleek, shiny robot on a mission and at first she doesn't have time for Wall-E's interference. But when Wall-E is in danger of losing his identity, EVE comes to the rescue, and the two robots get their "Hello Dolly" ending.

Ellie


Up

The first fifteen minutes of Up are undeniably the film's best as we are shown a heartbreaking montage of Carl and Ellie's life together – their triumphs as well as their sorrows. Ellie's story may end before her house takes flight, but by then she has had as profound an effect on the audience as she had on Carl.