Disney Princesses: To Be or Not To Be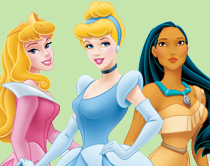 The Disney Princess franchise, which features a line-up of Disney's most beloved heroines, is one of Disney Consumer Products' most successful campaigns, helping raise product sales from $300 million in 2001 to $3 billion in 2005. The success of the line is far from surprising; after all, what little girl doesn't fantasize about growing up to be a beautiful princess like Cinderella or a kick-ass warrior like Mulan? Disney Princess merchandise makes the fantasy come alive through costumes, clothes, dolls, tea party sets, sing-along CDs, bedding, accessories, castle play sets, books, figurines, and more.
Officially, the current line includes nine "princesses": Snow White, Pocahontas, Aurora, Ariel, Tiana, Cinderella, Jasmine, Belle, and Mulan. In the past decade other characters have made unofficial appearances in the line, and recently Rapunzel from Disney's Tangled has been featured in a number of Disney Princess sets. Given Tangled's enormous success at the box office, it is likely that Rapunzel will soon join the ranks as an official Disney Princess.
While most critics and viewers have lavished praise on Tangled and its spunky heroine, there were a few who were disappointed that Disney made yet another film starring a blonde princess – don't we have enough of those already? Debates about the "true" color of Rapunzel's hair aside, if you actually look at the official Disney Princess line, there are only two other blondes featured, and both Cinderella and Aurora were introduced in the 1950s, more than 60 years before Rapunzel made her debut. In that 60 year interim, there was quite a bit of diversity in both hair color and ethnicity among the Disney Princesses.
Of course, there's another blonde princess in Disney's past that most people seem to forget about: Princess Eilonwy, who appeared in 1985's The Black Cauldron in Disney's pre-Renaissance period. Although she's all but forgotten by consumer products, Eilonwy is more legitimately a princess than some of the others who have appeared in the Disney Princess line. Below, we look at our Disney heroines from past to present and how legitimately "princess-y" they actually are.
| | | | |
| --- | --- | --- | --- |
| | Princess by birth | | Princess by marriage |
| | Debatable | | Really not a princess |
Disney Princesses

Snow White


Snow White and the Seven Dwarfs, 1937



Snow White appeared in Disney's first-ever princess film (and its first-ever feature length animation). She is both a legitimate princess and not blonde.

Cinderella


Cinderella, 1950

Disney's first blonde princess, upgraded from scullery maid to legit royal when she marries Prince Charming.

Alice


Alice in Wonderland, 1951

Alice may have played croquet with the Queen of Hearts, but her inclusion in the Kingdom Hearts video game and some of the early Disney Princess merchandise is really curiouser and curiouser.

Tinker Bell


Peter Pan, 1953

Before she got her own Disney Fairies franchise, Tinker Bell was featured in some Disney Princess merchandise even though in Peter Pan she was never fairy royalty.

Aurora


Sleeping Beauty, 1959



Although she spent most of her adolescent years living in the woods and being raised by a trio of fairies, Aurora is a legitimate princess through birth and marriage to Prince Phillip.

Eilonwy


The Black Cauldron, 1985

Princess Eilonwy is the only legitimate princess to be totally excluded from all Disney Princess merchandise – and Disney merchandise in general.

Ariel


The Little Mermaid, 1989



Ariel is the only Disney Princess who can claim royalty below the sea through her birthright and above the sea through her marriage to Prince Eric.

Belle


Beauty and the Beast, 1991

If the Beast wasn't really a transformed prince, Belle's captivity and subsequent marriage could have gone much worse.

Jasmine


Aladdin, 1992

The first non-Caucasian Disney princess, Jasmine gets "princess" credit for being the daughter of a sultan, but she doesn't get the marriage cred since "Prince Ali" was really just street rat Aladdin.

Pocahontas


Pocahontas, 1995

It's debatable whether being the daughter of a Native American chief qualifies Pocahontas as royalty, but if it does, Pocahontas is the first North American Disney princess.

Esmeralda


The Hunchback of Notre Dame, 1996

Despite her humble beginnings as a gypsy dancer and no ties whatsoever to royalty, Esmeralda has appeared in Disney Princess merchandise and is a regular at the Princess Storybook meal at Epcot's Akershus Castle.

Megara


Hercules, 1997

Megara may end up with Hercules in the end, but it is debatable whether being son of the King of the Gods makes Hercules the "Prince of the Gods". Megara also makes appearances at the Princess Storybook meal at Epcot's Akershus Castle.

Mulan


Mulan, 1998

Mulan may be a kick-ass warrior, but she is not a princess by birthright or through her marriage to warrior Li Shang. In Mulan II Mulan comes close to gaining princess status by taking the place of one of the Emperor's daughters in an arranged marriage, but she doesn't go through with it.

Kida


Atlantis: The Lost Empire, 2001

As the daughter of a chief, Kida has as much claim to royalty as Pocahontas, but due to Atlantis: The Lost Empire's failure at the box office, Kida has not been included in Disney Princess merchandise.

Tiana


The Princess and the Frog, 2009

Tiana is Disney's first African-American princess and the most recent to be officially inducted into the Disney Princess merchandise line. She is royalty through her marriage to Prince Naveen.

Rapunzel


Tangled, 2010

Even though she was kidnapped from her rightful parents and raised in a secluded tower for eighteen years, Rapunzel is still a princess by birth. She is not an official Disney Princess but will likely be added to the line soon.