Disney Childhood Memories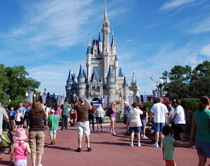 I have been to Walt Disney World five times in 25 years, from my first visit at age four to my Disney honeymoon last fall. Five visits isn't much to brag about, and that number is easily eclipsed – yearly – by Florida locals with season passes and Disney fanatics with frequent flier miles. I've been to all four resort parks, but there's still a lot of Disney World that I've never experienced, including Epcot's International Flower & Garden/Food & Wine Festivals, the Disney marathon, and the spectacular holiday lights.
Although I occasionally suffer Disney withdrawal symptoms, I'm happy with the infrequency of my park visits. Other than saving $$, the greatest advantage to visiting the parks every few years is that the magic never gets old (even when you do!), and there's always something new to see.
I don't remember much about my first visit to Disney World, other than watching my two-year-old brother transform into a hitchhiking ghost at the end of the Haunted Mansion ride. There were four of us squeezed into the Doom Buggies: my parents on the ends and my brother and I in the center where the ghosts are projected. The Haunted Mansion was my first Disney memory and it's still one of my absolute favorite Disney attractions that only gets better with age.
The second time I went to Disney World I was eight, and my greatest park memories were of soaring over Neverland on Peter Pan's Flight, riding my first-ever roller coaster at Big Thunder Mountain Railroad, going under the sea in 20,000 Leagues Under the Sea, sailing past battling ships on The Pirates of the Caribbean, and creating art with Figment after riding Journey Into Imagination. I also loved taking a wild ride into Hell on Mr. Toad's Wild Ride, and I was convinced that I'd eventually take the track that ended in Heaven, but alas, the ride always ended in Hell.
My third trip to Walt Disney World when I was thirteen came right after Universal Studios opened Islands of Adventure. That year, I braved The Incredible Hulk and Dueling Dragons at Universal, along with the giant snake attack in Disney's Honey, I Shrunk the Audience!, a visit to the stars in Space Mountain, and a nightmarish elevator ride on The Twilight Zone Tower of Terror. I rode The Tower of Terror by myself the first time, but I managed to drag my terrified little brother along the second time. We were seated next to a rather large man and my brother was so skinny that he went airborne during the last big drop and hung on for dear life to the lap bar. This happened often enough that the lap bars were later phased out and replaced by seat belts for all.
My fourth visit to Disney World was the ever-popular high school senior trip for Grad Nite at the Magic Kingdom. During the trip, I went to DisneyQuest and Blizzard Beach for the first time and had a blast at Grad Nite, despite being surrounded by thousands of obnoxious high school seniors. I experienced the ExtraTERRORestrial Alien Encounter that night, and can vouch for the "TERROR" part, although the attraction was later replaced by the much tamer Stitch's Great Escape. Unfortunately, the senior trip culminated in my absolute worst-ever Disney/Universal experience: Islands of Adventure on a hot and overcrowded Saturday in May with water rides that broke down repeatedly. AVOID AT ALL COSTS!
Last year's honeymoon visit to the Disney parks was all I hoped it would be after a seven year break and twenty years of glorious childhood memories. It was my husband's first trip and we went for the full Disney experience, from the resort (Yacht Club) to the restaurants, including the excellent Boma, Teppan Edo, and Chefs de France. This was my first visit to Disney's Animal Kingdom and Universal's Halloween Horror Nights, and the first time I experienced the fantastic The Seas With Nemo and Friends, Turtle Talk With Crush, Soarin', Mission: SPACE (intense! will not ride again), Rock 'n' Roller Coaster (finally!), It's Tough to be a Bug, Mickey's PhilharMagic, and Expedition Everest. All wonderful and all worth the wait.
It's hard to resist planning my next Disney trip, but I have promised my husband that I will wait until the new Fantasyland is fully up and running in 2013. If I can somehow squeeze the new Fantasyland, the Epcot International Food & Wine Festival, the Epcot International Flowers & Gardens Festival, and the spectacular holiday lights all in one magical trip…I will.
It's Disney World. Anything is possible.