Tinker Bell and Disney Fairies Magazine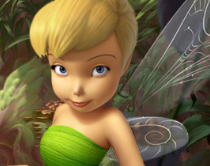 When I was in high school, I loved to collect Tinker Bell merchandise (mugs, snowglobes, stickers, etc.), but Tinker Bell wasn't nearly as popular as the Disney Princesses at the time, and it was hard to come by quality products.
Now ten years later, thanks in part to a series of direct-to-DVD movies that focus on Tinker Bell's adventures in Pixie Hollow with her fairy friends (Tinker Bell, Tinker Bell and the Lost Treasure, Tinker Bell and the Great Fairy Rescue, Tinker Bell and the Pixie Hollow Games), Tinker Bell is more popular than ever.
The first direct-to-DVD release, Tinker Bell, came out in 2008, followed by three sequels released over the next three years, and a fourth sequel, Tinker Bell and the Mysterious Winter Woods, due in 2012. The Tinker Bell series is the first of the Disney films to feature Tinker Bell as a computer animated character who speaks, as Disney's traditionally animated Peter Pan (1953) and Return to Neverland (2002) had the fairy communicate entirely with churlish expressions and pouty body language.
The Tinker Bell series introduces a number of other talented fairies whom Tinker Bell befriends, including the water fairy Silvermist, the garden fairy Rosetta, the light fairy Iridessa, the animal fairy Fawn, the pixie dust keeper Terence, and the fast-flying and antagonistic Vidia.
These fairies can be seen throughout the Disney theme parks, including appearing as mini topiaries during the 2011 Epcot International Flower and Garden Festival and at character meet and greets in Tinkerbell's Magical Nook at the Magic Kingdom and Pixie Hollow in Disneyland. The fairies are also featured in more than forty publications including chapter books, Step Into Reading books, and the Disney Fairies Magazine, beginning with 2005's Fairy Dust and the Quest for the Egg by fantasy author Gail Carson Levine.
In 2006, Disney Fairies Magazine first launched, and like its counterpart, Disney Princess Magazine, the magazine features stories, activity workbooks, crafts, pull-out posters, coloring pages, contests, and more. You can subscribe now to Fairies Magazine, to get 25% off the cover price and receive a one-year subscription (8 issues) for $29.92 ($3.74 per issue) for residents of the U.S. and $39.92 ($4.99 per issue) for residents of Canada.
Disney Fairies Magazine subscribers will receive:

8 issues sent directly to your home
Friendship stories from Tinkerbell and her fairy friends going on magical adventures
Pixie puzzles, games, coloring pages, quizzes, comics, and fairy cutouts
FREE BONUS STORIES that you can read online or print out right now
For more games, activities, downloads, videos, and more, visit the official Disney Fairies site.
Other Disney Fairies Fun:
The Disney Fairies Fly iPhone, iPad, and iPod Touch app was first released in early 2010 to promote the Tinker Bell movies and characters. The flying game is easy to play (recommended for children 4+) and features beautiful graphics which should entice any young girl who is a fan of fairies. There are six seasonally-themed worlds that can be unlocked (Beach Cove, Spring Valley, Summer Glade, Autumn Forest, Winter Wood, and the Troll Bridge challenge) and three levels in each world that increase in difficulty. As more worlds are unlocked, players can also unlock other fairies for six total playable characters: Tinker Bell, Rosetta, Iridessa, Fawn, Silvermist, and Vidia.
To control each fairy's flight, players simply have to tilt their iPhone/iPad/iPod forward and backwards to make the fairy fly up and down to avoid obstacles such as bats, birds, trees, clouds, and whirlwinds. The fairy's goal is to collect the items she needs to prepare for the change of season. Each time a fairy successfully flies to the end of a level, the next level is unlocked, and after three levels have been beaten in each world, a new world is unlocked until all of Pixie Hollow can be played. Players can explore Tinkers Nook at the center of the world map to discover images and videos of all of the Pixie Hollow fairies.
A lite version of the app (Disney Fairies Fly Lite) is available for FREE and allows players to play the three levels of Beach Cove as Tinker Bell and explore the images and videos in the Tinkers Nook. The full version of the app is available on all platforms for $4.99.