Disney Princess Magazine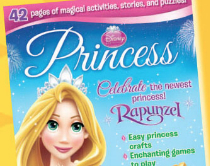 Whether they're on the bus, lounging by a pool, or getting their hair done at the salon, most girls love reading magazines. In my teens I used to read YM, Seventeen, People, and the occasional Cosmo, and now that I'm in my 20s, I indulge in Entertainment Weekly and Time.
Although there are numerous magazines geared towards teenage girls (Teen Vogue, Cosmogirl, Teen People, Tiger Beat, J-14, etc.), the subject matter is usually too mature for girls as young as seven and eight who want magazines of their own. Fortunately, Disney has filled this marketing gap with its Disney Princess Magazine which features stories, activities, games, and recipes targeted for "little princesses of all ages".
Description from the Disney Princess Website:

Disney Princess is a delightful must-have full of sparkly fun! Every girl can be a princess when they enjoy this magical magazine, jam-packed with fun activities and exciting stories. Inside, you'll always find an enchanted workbook specially designed to encourage early learning skills, plus much more.
Now parents can follow this link and subscribe to Disney Princess Magazine at 25% off of the cover price. A 1 year (8 issues) subscription is now $29.92 ($3.74/issue) for residents of the U.S. and $39.92 ($4.99/issues) for residents of Canada.
What Disney Princess Magazine subscribers will receive:

8 issues sent directly to your home. If you subscribe now (August), your first issue will ship in October.
Magical stories from the lives of Snow White, Cinderella, Aurora, Ariel, Belle, Jasmine, Pocahontas, Mulan, Tiana and Rupunzel
Beautiful pull-out posters, enchanting activities, puzzles, and games to keep the little ones busy, active and happy.
FREE BONUS STORIES that you can read online or print out right now.
Here's an idea for subscribing parents who want to make sure their little princess has an extra-special day. Coordinate giving her the first issue of Disney Princess Magazine with a special occasion, such as a birthday celebration, and include an Enchanted Call from her favorite Disney character.
With Disney's Enchanted Calls, for $2.49, you can choose from one of eleven characters (Ariel, Mulan, Cinderella, Snow White, Jasmine, Aurora, Belle, Pocahontas, Pooh, Mickey, and Tigger) and one of six themed messages (Congratulations, Good Night, Birthday Greeting, Holiday Greeting, Encouragement, Good Morning) and pick the exact date/time/location that the Disney character should call. When the phone rings and your little princess answers, she will hear a very special, personalized message from the character of your choice.
Enchanted Calls are available to residents of the United States (excluding residents of WA, KY, MS, NE, TN, and LA) and Canada (excluding Quebec). You must be 18 years of age or older to order a call.
And for an extra-extra-special day, consider giving your princess ten Disney princesses of her own with the gorgeous 10 Piece Classic Disney Dolls Gift Set which features all of Disney's most beloved princesses: Snow White, Cinderella, Aurora, Ariel, Belle, Jasmine, Pocahontas, Mulan, Tiana, and Rapunzel. Or give her any of the hundreds of other Disney Princess products, including apparel, books, video games, movies, accessories, toys, and collectibles, available for purchase online.