Disney's Aulani Resort Opens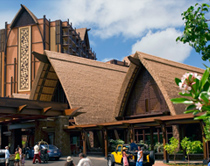 With limited (if any!) paid vacation days, most families can't afford to take more than one vacation a year, and one of the toughest decisions to make is where to go. How do you choose between a tropical paradise and a Disney adventure? What if you don't have to?
Yesterday, Disney's Aulani Resort & Spa celebrated its grand opening in Ko Olina, Hawaii, welcoming its first guests with a special sunrise ceremony and visits from popular Disney characters including Mickey, Minnie, Goofy, Donald, and Stitch. Aulani is Disney's eleventh Vacation Club Resort and the first Disney property located on the beautiful Hawaiian Islands.
With its spectacular beaches, lush flora, and crystal blue waters, Aulani is the definition of paradise, and that paradise can be experienced in countless ways, from traditional Hawaiian massages at the resort's Laniwai Spa to snorkeling at the private Rainbow Reef lagoon. Aulani is conveniently located on the island of Oahu only miles away from Oahu's most popular tourist attractions which offer such excursions as horseback riding, kayaking, nature hikes, and museum visits, and many other ways to experience the traditional culture and natural beauty of Hawaii.
As a Disney Vacation Club Resort, there's plenty of Disney magic here too, including Character Dining and poolside parties, Disney Movie Nights, and Aunty's Beach House, a club designed especially for kids 3 to 10 years old. Day and night, there's entertainment, dining, and fun for the whole family which merge traditional Polynesian flair with contemporary tastes and Disney enchantment.
To celebrate the grand opening, Disney Insider published a list of the best that the Aulani Resort & Spa has to offer.

Top Ten Things to Do at Aulani.

1. Waikolohe Stream, a refreshing and magical lazy river
2. Crescent-Shaped White Sand Beach lining a beautiful turquoise lagoon
3. Laniwai Spa, indulgent and rejuvenating for teens and adults
4. Aunty's Beach House, a club especially for kids 3 to 10 years old
5. Adventures by Disney Excursions
6. Rainbow Reef, a private swim-thru lagoon for snorkeling
7. Aunty's Breakfast Celebration at the Makahiki featuring Disney Characters
8. 'AMA' AMA Contemporary Island Cooking, an idyllic beachside restaurant
9. Starlit Hui, a celebration featuring hula performers, music, local artisans, and games
10. Makai Preserve, a Conservation Pool home to stingrays and other marine life

For more information on the Top Ten Things to Do, read the full article here.
Disney's Fairy Tale Weddings & Honeymoons is promoting the new resort as an ideal place for couples to make their fairy tale engagements, weddings, and honeymoons come true. Makaloa Garden in Aulani is a secluded, flora-filled garden with a view of the Pacific and the perfect place for ceremonies infused with the traditional culture, music, and food of Hawaii. Aulani is also the perfect place for adventurous couples to fill their honeymoons with hiking trails, catamaran sails, and snorkeling in saltwater lagoons.
For more information on the Disney Vacation Club and how to buy into a timeshare at Aulani Resort & Spa, visit the Disney Vacation Club website.
Wherever you spend your next vacation, I hope you and your ohana have a wonderful time. Aloha!