Pixie Hollow Games, Contests, and More!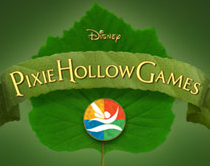 Calling all Disney Fairies fans! For those of you who can't get enough of Tinker Bell and her friends, you'll be happy to know that the fairies are starring in a brand new animated feature, Tinker Bell and the Pixie Hollow Games, which is set to debut on the Disney Channel in October, followed by a DVD and Blu-ray release later this year.
In The Pixie Hollow Games, all of the fairies of Pixie Hollow are gathering to compete in an Olympic-style sporting event which will pit the garden fairies, tinker fairies, sparrow men, and others against the reigning champion storm fairies. At the games, the garden fairies are plagued by a legendary losing streak that new fairy Chloe (voiced by The Suite Life's Brenda Song) is determined to end. Find out more about Fairy Chloe here.
All of Tinker Bell's fairy friends (Silvermist, Iridessa, Rosetta, Fawn, Vidia, and Terence) return for this installment, and several new fairies are introduced, including Fern, Rumble, and Glimmer who are voiced by the Disney Channel stars Zendaya, Jason Dolley, and Tiffany Thornton.
This is the first of the Disney Fairies films to premiere on television before its home video release, and the Disney Channel is promoting The Pixie Hollow Games heavily with promos, contests, and tons of website games and activities at Pixie Central. Watch exclusive clips from The Pixie Hollow Games!
ART CONTEST: Last Chance to Enter

Create your own Disney Fairies Comic-Strip showing how your favorite fairy trains for the Pixie Hollow Games, and you could win one of several great prizes! See an example and download a Comic-Strip Template here. The contest ends September 6th! SUBMIT NOW!

There are two ways to enter: 1. Print out the Mail-In Entry Form and Comic-Strip Template, draw your art, and mail them in, OR 2. Print the Comic-Strip Template, draw your art, scan it, and send it digitally using the Online Entry Form. Be sure to send the original art or a digital version – no screenshots!

One GRAND PRIZE winner will receive:
A flat-screen television and a Blu-ray player
Disney Fairies Blu-ray/DVD collection
Hallmark™ party supplies featuring the Disney Fairies
5 One-Month Pixie Hollow Membership Cards for you and your friends

10 FIRST PRIZE winners will receive:
1 One-Month Pixie Hollow Membership Card
Disney Fairies Blu-ray/DVD collection
To explore all that Pixie Hollow has to offer online, first you will need to Create a Fairy. Your fairy can be customized by gender, hair, skin, eyes, wing type, and most importantly, fairy talent. Once your fairy is created, you are set lose to explore Pixie Hollow, a fully realized world with shops, games, and plenty of other fairies to chat with. Playing games can help you earn fairy talent points and items that can be exchanged for clothing, furniture, and more.
Some areas of Pixie Hollow can only be explored by paying members of Pixie Hollow. Memberships are $5.95 monthly, $29.95 semi-annually, and $57.95 annually and can be cancelled anytime. Find out how to become a member of Pixie Hollow here.