Walt Disney World Celebrates 40 Years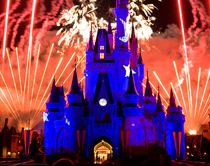 When I was twelve years old, my family visited Walt Disney World during its 25th anniversary celebration. That year, Cinderella's Castle was dramatically transformed into a giant pink candy cake topped by candles and gummie lifesavers. I rode Space Mountain for the first time (and almost lost my glasses on a sudden track drop), and I rode Mr. Toad's Wild Ride for the last time before it closed two years later to make way for The Many Adventures of Winnie the Pooh.
Now, fifteen years later on October 1st, 2011, the Walt Disney World Resort is celebrating another milestone: its 40th Anniversary!
When the Magic Kingdom Park first opened in 1971, there were 23 total attractions in six themed lands: Main Street U.S.A., Adventureland, Liberty Square, Frontierland, Fantasyland, and Tomorrow Land. Over the years, attractions have come and gone, and many have been renovated to keep up with technological advancements and the sophistication and diversity of park visitors.
The opening day attractions that are still in operation today are The Jungle Cruise, The Swiss Family Treehouse, The Haunted Mansion, The Hall of Presidents, Dumbo the Flying Elephant, Mad Tea Party, and it's a small world. Another opening day attraction, Snow White's Scary Adventures, is set to close soon, and the The Enchanted Tiki Room recently reopened based on the original Tropical Serenade attraction after a 13-year stint as The Enchanted Tiki Room (Under New Management).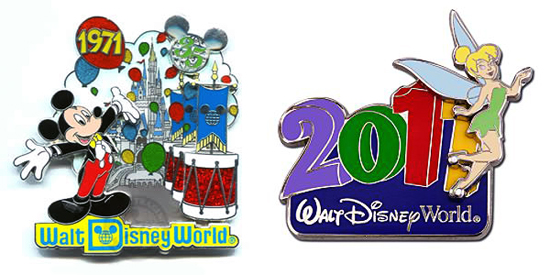 Disney hasn't announced any specifics regarding 40th Anniversary celebrations at the resort, but there's been a lot of rumors that something magical is in the works. The planned 2012-2013 Fantasyland expansion won't have new attractions up and running until the tail end of the presumed year-long celebration, but if previous milestone years are any indication, there will likely be new 40th anniversary merchandise, live events, and maybe even a new Cinderella's Castle.
Test your knowledge of the Walt Disney World Resort with these Sporcle quizzes!
If you plan on visiting Walt Disney World for the 40th anniversary celebrations, October is a great time to visit as it is historically one of the months with the lowest attendance and the cheapest resort prices. Currently, vacationers can get a FREE Dining Plan when booking a full price Walt Disney World vacation package for check-ins on select dates between 10/1/11 and 3/29/12. Visit MouseSavers.com for more discounts and everything you need to know about booking your next Disney vacation.
Don't forget to order customized maps of your favorite Walt Disney World rides and attractions. Highly recommended!