Disney's Vacation Club Hits Hawaii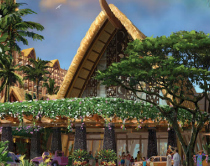 Timeshares are vacation properties purchased by a group of owners who split the cost of the property and its annual fees and who are eligible to visit the property every year during the block of time that they have purchased. Timeshares are not without controversy, and many people believe that the overpriced properties touted by high pressure salespeople are a waste of money – they are more expensive and less flexible than hotels, are hard to get rid of, and depreciate in value faster than cars.
But for the people who love vacationing in the same place every year and who are comfortable with long term joint-ownership of a property, timeshares shouldn't be discounted. As always, Disney has an answer for everything, and their answer to timeshares is the Disney Vacation Club.
The Disney Vacation Club is a vacation timeshare division owned by The Walt Disney Company which operates an annual Vacation Points system that members can use towards yearly vacations at the Disney Vacation Club Resorts or one of more than 500 other member destinations worldwide. There are eleven Vacation Club resorts located in Anaheim, California; Lake Buena Vista and Vero Beach, Florida; Hilton Head Island, South Carolina; and the brand-new Aulani Disney Vacation Club Villas in Ko Olina, Hawaii.
What is unique about the Disney Vacation Club is the flexible way that members can use their annual Vacation Points, from a visit to the Walt Disney World Resort in Florida, to a cruise with Disney Cruise Lines or a stay at one of Disney's international resorts in Europe, Central and South America, Asia, Australia, and the South Pacific – from China to Venezuela.
Buy-ins to the Vacation Club require a minimum of a one-time purchase price of ~$12,000 for 100 Vacation Points in addition to annual dues which are currently around $500. More Vacation Points equal better rooms and longer stays, but they will also increase the purchase price and fees. For more information, visit the Disney Vacation Club Website or call their toll-free number: (888) 864-0458.
The Mousesavers website offers a great analysis of the Disney Vacation Club with a breakdown of the pros/cons and costs/benefits that potential timeshare owners should consider before buying into the Vacation Club. These considerations include vacation habits, annual fee increases, and using Vacation Points for staying at a timeshare resort versus using them for other Disney offers.
The Disney Vacation Club's first resort opened on December 20th, 1991. Designed with a turn-of-the-century Key West theme, the Old Key West Resort (formerly Disney's Vacation Club Resort) features 761 rooms that range from 390 sq ft. studios to 2,375 sq ft. three bedroom grand villas, two counter service restaurants and one sit down restaurant, and Disney transportation to all of the theme parks, the other Disney resorts, and Downtown Disney.
The gallery below features several photographs of the Old Key West Resort taken by Samantha McElhaney on her recent visit in April, 2011. Photographs include the entrance hallway, the lounge adjacent to the guest check-in, the resort pool, bicycles for rent, and the lighthouse that houses the resort's sauna.
Disney's eleventh Vacation Club resort is Aulani in Ko Olina, Hawaii on the island of Oahu, scheduled to open in fall 2011. The Disney Vacation Club website describes the resort: "Overlooking a white-sand beach, a crystal-blue lagoon and a pristine cove surrounded by lush tropical foliage, this Disney Vacation Club Resort will be a premier vacation destination." When it opens, Aulani will include three restaurants, including a Breakfast with Characters dining experience, and will feature a pool and water play area and a nearby saltwater snorkel lagoon.
Disney's Fairy Tale Weddings & Honeymoons is promoting the new resort as an ideal place for couples to make their fairy tale engagements, weddings, and honeymoons come true. Makaloa Garden in Aulani is a secluded, flora-filled garden with a view of the Pacific and the perfect place for ceremonies infused with the traditional culture, music, and food of Hawaii. Aulani is also the perfect place for adventurous couples to spend their honeymoons with hiking trails, catamaran sails, and snorkeling in saltwater lagoons.
As always, there is something for everyone at Disney – in the old resorts, as well as the new.