Win a Car in Cars 2 Promotion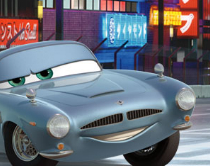 The debut of Pixar's Cars 2, sequel to the 2006 animated hit, Cars, is a little more than a month away, and State Farm is currently sponsoring an exciting sweepstakes inspired by the film. Enter the sweepstakes between now and July 17th, 2011 for your chance to win one of 18,000 prizes from the "18,000 State Farm agents on a mission for you," including the grand prize, a 2011 Cadillac SRX.
When you sign up for the sweepstakes, you automatically receive 50 points towards Disney Movie Rewards. The full list of sweepstakes prizes is below:
Grand Prize: An all-new 2011 Cadillac SRX. (ARV: $50,000)

Instant Win Prizes:
1st Place (40): An Inspiration 17R laptop. (ARV: $1,000)
2nd Place (20): A 64 GB Apple iPad. (ARV: $700)
3rd Place (20): A Flip camera. (ARV: $250)
4th Place (50): Night vision goggles. (ARV: $100)
5th Place (30): A set of Motorola 2-way radio walkie-talkies. (ARV: $80)
6th Place (70): A $50 Best Buy gift card, which you can use for spy gear. (ARV: $50)
7th Place (400): An iPod Shuffle. (ARV: $50)
8th Place (15): A Cars video game for the Xbox video game. (ARV: $49.99)
9th Place (24): A Cars video game for the Nintendo DS. (ARV: $29.99
10th Place (30): A Cars soundtrack. (ARV: $25)
11th Place (300): A Cars 1 Blu-ray combo pack. (ARV: $49)
12th Place (10,000): A Hollywood Movie Money gift code. (ARV: $14)
13th Place (50): A Spy Voice Scrambler. (ARV: $10)
14th Place (200): A World of Cars subscription code. (ARV: $5)
15th Place (6,750): A $5 Amazon gift code. (ARV: $5)
An introduction from Michael Cain as Agent Finn McMissle begins the sweepstakes challenge:
"My name is Finn McMissle, British Intelligence. If you are receiving this communication, it means that you have been identified as a potential recruit. Recruit for what, you may ask. Oh, that's simple: to become a special agent. Protecting the world from danger is not an easy task. To determine if you have what it takes to be a special agent, you will be sent on several missions to test your reflexes, memory, and observation skills. How well you do will verify if you have what it takes to join the team."
Mission #1: Tokyo Assignments:
The first mission takes you into the heart of Tokyo where you will meet an American agent in disguise. By completing the four special agent assignments in Mission #1, you will earn nine additional sweepstakes entries. To view the Augmented Reality 3-D version of the debrief, you will need a printer, a webcam, and a recently updated web browser – Google Chrome is recommended.
1. Watch an exclusive sneak peak of Tokyo and the exciting locations being an agent will take you. The code appears at the end of the trailer.

2. Identify your American spy contact in the Mater Memory Mission game. In the game you will have 3 seconds to memorize one of Mater's disguises and then 45 seconds to reassemble it. The code appears after you play the game.

3. Be a super sleuth and visit the State Farm Agent headquarters tab. The code appears on the page that is linked.

4. Visit Tokyo and meet Okuni and friends from Cars 2. The code appears on the page that is linked.
Mission #2: Italy Assignments:
Mission #2: Italy, was unlocked on May 23rd for participants who have completed Mission #1. When completed, the four mission assignments will earn you nine new sweepstakes entries.
1. Watch a sneak peek of Cars 2 to learn about your new location and the locals you may meet as a special agent. The code appears at the end of the trailer.

2. Rendezvous with a local on Family.com to find another secret code for your dossier. The code is on the second page of the "Cars 2 Playset" print out.

3. Download an exclusive wallpaper of Lightning McQueen's biggest World Grand Prix competitor. The code is on the wallpaper image of Francesco.

4. Log into Disney.com/CarsSweeps with your special agent name on your mobile phone to get the final secret code.