The Bechdel Test and Disney Films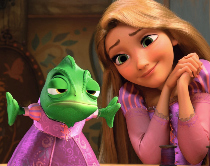 There is a strong gender imbalance in Hollywood these days (and throughout the history of film) that has resulted in most studio films being very male-centric and featuring few (if any) female characters of substance. The Bechdel Test, originated by Alison Bechdel in her 1985 comic "The Rule" from "Dykes to Watch Out For", is a litmus test for gauging the active presence of female characters in films and how well-rounded and complex those characters are.
The Bechdel Test Rules:

1. There are at least two (named/significant) female characters who…
2. Talk to each other about…
3. Something other than a man
Despite the simplicity of the rules, the Bechdel test can inspire a lot of disagreement when discussing particular films, with frequent debates about whether two females count as "named" characters and whether their conversation(s) are significantly non male-centric. I just saw Bridesmaids this past week, and with a cast of six female characters who do nothing BUT talk to each other, I think that the film passes the test with flying colors, but other people might argue that all of the conversations in Bridesmaids were about the wedding and relationships – and by extension, men.
Disney animated films seem to be a mixed bag of movies that pass or fail the Bechdel test. On one hand, female characters feature prominently in Disney's "Princess" movies (but they don't always talk to other women), and on the other hand, Pixar's films are full of complex and interesting characters, but none of Pixar's films have female characters as the central protagonists.
Below is a chart of how Disney films rank on the Bechdel test, according to submitters from the Bechdel Test Movie List.
The Bechdel Test: Disney Animated Films

PASS

FAIL

Alice in Wonderland
The AristoCats
Beauty and the Beast
The Black Cauldron
Bolt
Brave (NEW!)
A Bug's Life
Cars
Cinderella
The Emperor's New Groove
Frozen (NEW!)
Hercules
Home on the Range
The Incredibles
Lilo and Stitch
Mulan
One Hundred and One Dalmatians
Peter Pan
Pocahontas
The Princess and the Frog
The Rescuers
Robin Hood
Sleeping Beauty
Snow White and the Seven Dwarfs
Tangled
Toy Story 3
Wreck-It-Ralph (NEW!)

Aladdin
Atlantis: The Lost Empire
Bambi
Brother Bear
Dumbo
Finding Nemo
The Fox and the Hound
The Great Mouse Detective
The Hunchback of Notre Dame
The Jungle Book
Lady and the Tramp
The Lion King
The Little Mermaid
The Many Adventures of Winnie the Pooh
Meet the Robinsons
Monsters, Inc.
Oliver & Company
Pinocchio
Ratatouille
The Rescuers Down Under
The Sword in the Stone
Tarzan
Toy Story
Toy Story 2
Treasure Planet
Up
WALL-E
Do you disagree with the "Pass/Fail" status of any of these films? Share your opinions here or post your comments directly to the Bechdel Test Movie List website.