Avoiding Long Lines at Disney Parks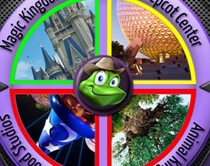 One of the most frustrating things about visiting the Disney theme parks (especially during the summer), is the painfully long line queues that can force visitors to wait as many as 60, 75, or even 90 minutes for Disney's most popular rides. A 90 minute wait for a 5 minute ride is an average of 18 minutes in line per 1 minute of ride – yikes!
Fortunately, both Disney World and Disneyland offer Fastpass Service for their busiest rides. Fastpass tickets allow visitors to access shorter wait lines for certain rides at designated hour-long windows. The catch is that you can only retrieve a new ticket every two hours or after the window for a previous ticket has begun. Fastpass machines are located at the entrance to all of the rides that offer Fastpass access, and the service is so popular that during peak attendance, the machines may run out of tickets as early as the mid-afternoon. The tried-and-true advice is to grab a Fastpass ticket as soon as you enter the park and another one every two hours after that.
DISNEY WORLD: Rides Offering Fastpass Service

Disney's Animal Kingdom
Disney's Epcot
DINOSAUR
Expedition Everest
Kali River Rapids
Kilimanjaro Safaris
Primeval Whirl
Captain EO starring Michael Jackson
Maelstrom
Mission: SPACE Pavilion
Soarin'
Test Track
Disney's Hollywood Studios
Disney's Magic Kingdom
Rock 'n' Roller Coaster Starring Aerosmith
Star Tours
Toy Story Mania!
The Twilight Zone Tower of Terror
Big Thunder Mountain Railroad
Buzz Lightyear's Space Ranger Spin
Jungle Cruise
The Many Adventures of Winnie the Pooh
Peter Pan's Flight
Space Mountain
Splash Mountain
DISNEYLAND: Rides Offering Fastpass Service

Disneyland Park
Disney's California Adventures
Autopia, presented by Chevron
Big Thunder Mountain Railroad
Buzz Lightyear Astro Blasters
Indiana Jones Adventure
Roger Rabbit's Car Toon Spin
Space Mountain
Splash Mountain
California Screamin'
Grizzly River Run
Mulholland Madness
Soarin' Over California
The Twilight Zone Tower of Terror
World of Color
For more information on Disney's Fastpass Service, visit Allears.net's Fastpass FAQ.
Another great resource for avoiding long wait times are phone applications. The iPhone offers more than a dozen – mostly free – apps that are designed to give you estimated up-to-the-minute wait times for all of the rides at the Disney parks.
Two of the highest rated free apps are MouseWait California for Disneyland and the Undercover Tourist app for Disney World.
The MouseWait app relies heavily on a community of volunteers to keep their wait times accurate, and app users are able to connect through the app's MouseWaits Lounge, as well as through Facebook and Twitter. The app allows verified users to submit wait times while they are at the park and includes the time of the last ride update, which gives a better idea of how accurate the wait is. Mousewait also provides restaurant menus, GPS of the restaurants and restrooms closest to the user, and event times for everything from live shows to fireworks – all for free! I used the Mousewaits app for the first time when I visited Disneyland this past July, and from my experience, the wait times were accurate and the Lounge community was both friendly and helpful.
The Undercover Tourist app for Walt Disney World offers much more at the price of $3.99 and comes highly recommended by Mousesavers.com. The Undercover Tourist app includes detailed maps of all four parks, restaurant menus, a list of all of the restaurants and rides, and a way to filter rides by age group. Some other app features include a camera function to store photos of your park tickets in case you lose them, parade times, and a 10 day crowd forecast. I can't vouch for its accuracy, but the app seems to have a lot to offer and will come in handy when I visit Disney World next week. The only downside is that it's a bit hard to navigate through the app without clear guides on how to interpret some of its features.
Of course, while the Fastpass service and phone applications can help you to avoid some of Disney's longest lines, the best advice is to visit the parks during off-peak seasons and to avoid visiting on weekends when the the locals come out en masse.
Enjoy your trip!