Disney Animation: Trivia Fun, Part 1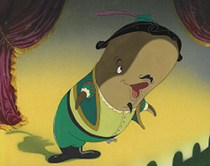 Walt Disney Studios proudly presents its 50th animated feature, Tangled, which opened Thanksgiving weekend to rave critical reviews and a strong $48.8 million opening weekend, just short of Harry Potter and the Deathly Hallows: Part One's second weekend haul of $49.1 million.
If you are like me and you grew up with the best of Disney dominating your movie shelf (The Lion King, Cinderella, The Little Mermaid, Beauty and the Beast, Bambi, etc), you may still have a hard time naming 25 of these animated films, much less all 50. Below is the full list of Disney's Animated Classics, from Snow White and the Seven Dwarfs to Tangled, with trivia about each film.
Part 1 of 5 (Snow White and the Seven Dwarfs through Melody Time)
1. Snow White and the Seven Dwarfs (1937)

The film was the first feature-length, cel-animated motion picture ever produced commercially
It is one of only two animated films ranked in AFI's 100 Greatest American Films of All Time (1997) (the other being Disney's Fantasia)
Originally dubbed "Disney's Folly" by those convinced the film would fail, but by 1939, Snow White and the Seven Dwarfs was the highest grossing film of all time – until Gone With the Wind's release later that year
Although not officially in competition, Walt Disney received an Honorary Academy Award for the film in the form of one full-sized statue and seven miniature ones
2. Pinocchio (1940)

The film won two Academy Awards for Best Original Score and Best Original Song "When You Wish Upon a Star"
Although the film was not a financial success in original release at the box office, subsequent re-releases have earned the film more than $84 million
Disney animators used rotoscoping techniques (a process in which animators trace over live action footage) for creating the characters of Jiminy Cricket and the Blue Fairy
Allegedly, an August 1993 issue of Playboy cited 43 instances of violence and other unfavorable behavior in the film, including drinking, swearing, and vandalism
3. Fantasia (1940)

The film was originally released as a 124 minute (plus intermission) roadshow theatrical film to mixed reviews before being re-released as an 81 minute film in 1942. Subsequent re-releases have restored various scenes from the original
"The Sorcerer's Apprentice" scene has become one of Mickey Mouse's most iconic. The sequence was used again in Disney's Fantasia 2000, and in 2001, the sorcerer's hat from the film became Disney's Hollywood Studios' theme park icon
This was the first commercial film produced in stereophonic sound, a multi-channel sound format Disney called Fantasound
The film was the first major Hollywood production released with no credits except for an intermission title card (credits were added to subsequent releases)
4. Dumbo (1941)

Dumbo is the only Disney animated feature film with a title character who doesn't speak
The film was the only classic Disney animated film to use watercolor backgrounds other than Snow White and the Seven Dwarfs, as most films used the more expensive oil paint and gouache
At only 64 minutes it is one of Disney's shortest features and was made on a tight budget to help recoup losses from Fantasia the year before
In 1941 many Disney animators went on strike for five weeks, and these strikers were caricatured as clowns in the film who go to 'hit the big boss for a raise"
The 2001 60th anniversary DVD release of the film featured a sneak peak of the direct-to-video Dumbo II, a movie which was never released
5. Bambi (1942)

Animation from the film has been reused more than any other Disney film, with characters and scenery appearing briefly in such films as The Sword in the Stone (1963), The Jungle Book (1967), and Beauty and the Beast (1991)
"Man" from Bambi ranked #20 on AFI's Greatest Heroes and Villains, the only character on the list not to appear on-screen
Although there are no people seen on screen in the film, an actress and an Ice Capades star were used as live-action references for Bambi and Thumper sliding on the icy pond
There are only approximately 1,000 words of dialogue in the film
6. Saludos Amigos (1943)

The title translates into English as "Hello, Friends", and at only 42 minutes, this is the shortest Disney film released as a feature to date
This was the first of Disney's six "packaged films" which each feature a number of shorts combined and sold as feature films (the others being The Three Caballeros, Make Mine Music, Fun and Fancy Free, Melody Time, and The Adventures of Ichabod and Mr. Toad)
The four segments of the film are "Lake Titicaca", "Pedro", "El Gaucho Goofy", and "Aquarela do Brasil"
During wartime, the US Department of State sent Walt Disney and a team of animators and composers on a 1941 goodwill tour of South America with Walt Disney acting as an ambassador. Footage of the artists on tour and drawing scenes of local culture and scenery were used to tie the animated segments of the film together
7. The Three Caballeros (1944)

Produced along with Saludos Amigos as part of Walt Disney's South American goodwill tour, the film premiered in Mexico City six weeks before its debut in the United States
The seven segments of the film are "The Cold-Blooded Penguin", "The Flying Gauchito", "Baia", "Las Posadas", "Mexico: Pátzcuaro, Veracruz and Acapulco", and "You Belong To My Heart", and "Donald's Surreal Reverie"
With the exception of an appearance by Mickey Mouse in Fantasia, this is the first time Walt Disney combined animated characters with live actors since the "Alice Comedies" of the 1920s, inspired by Lewis Carroll's Alice's Adventures in Wonderland
The Three Caballeros – Donald Duck, Panchito, and Jose Carioca – appear outside the Mexico Pavilion at Walt Disney World's Epcot and are featured in a 2007 redesign of the Gran Fiesta Tour ride
8. Make Mine Music (1946)

The ten segments of the film are "The Martins and the Coys", "Blue Bayou", "All the Cats Join In", "Without You", "Casey at Bat", "Two Silhouettes", "Peter and the Wolf", "After You've Gone", "Johnny Fedora and Alice Blue Bonnet", and "The Whale Who Wanted to Sing at the Met"
The only thematic element tying the ten shorts in this feature film together is the use of music in each segment
The only home video release of the shorts as a collection was in 2000, but one segment, "The Martians and the Coys" was cut from the release due to animated gunplay violence
The animated segment "Blue Bayou" was originally set to the classical "Clair de Lune" from Claude Debussy's Suite bergamasque and intended to be released as part of Fantasia (1940)
9. Fun and Fancy Free (1947)

The two segments of the film are "Bongo" and "Mickey and the Beanstalk"
The "Mickey and the Beanstalk" segment was the last time Walt Disney himself voiced the character of Mickey Mouse
Billy Gilbert, a radio comic, who voiced the dwarf Sneezy in Snow White and the Seven Dwarfs (1937) also voiced Willie the Giant in "Mickey and the Beanstalk"
The film opens with Jiminy Cricket singing "I'm a Happy-Go-Lucky Fellow" which was originally written for the film Pinocchio (1940)
10. Melody Time (1948)

The seven segments of the film are "Once Upon a Wintertime", "Bumble Boogie", "The Legend of Johnny Appleseed", "Little Toot", "Trees", "Blame it on the Samba", and "Pecos Bill", all set to music as in Make Mine Music
Donald Duck and Jose Carioca from The Three Caballeros (1944) are reunited in the "Blame It on the Samba" segment
Scenes featuring Pecos Bill rolling, lighting, and smoking cigarettes were digitally removed from the NTSC video release of the film
"The Legend of Johnny Appleseed" was re-released on home video in 2002 with three other shorts ("The Brave Engineer", "Paul Bunyan", and "John Henry") in Disney's American Legends
See also:
Part 1 of 5 (Snow White and the Seven Dwarfs through Melody Time)
Part 2 of 5 (The Adventures of Ichabod and Mr. Toad through The Aristocats)
Part 3 of 5 (Robin Hood through Beauty and the Beast)
Part 4 of 5 (Aladdin through The Emperor's New Groove)
Part 5 of 5 (Atlantis: The Lost Empire through Tangled)