Disney Dining Experiences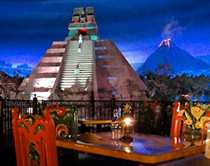 Have you heard the big news coming out of the Magic Kingdom? In January, new details emerged about the planned Fantasyland expansion that will more than double the size of the area with new attractions opening in 2012 and 2013. For more details on the Fantasyland expansion, click here. One of the new attractions will be The Beast's Castle featuring the Be Our Guest Restaurant, a 552 seat dining establishment that will offer a casual counter-service lunch by day and an elegant sit-down table service dinner by night.
When it opens, the Be Our Guest Restaurant will join the ranks of more than 150 restaurants, cafes, and food courts at the Walt Disney World Resort. Many of the restaurants are ranked among the best in Orlando, from the elegant Victoria & Albert's to the African-themed Jiko – the Cooking Place. During our Honeymoon visit to the Walt Disney World Resort last fall, my husband Matthew and I ate at several of Disney's most popular sit-down restaurants and thoroughly enjoyed our dining experiences.
When booking our vacation, we signed up for Disney's "Magic Your Way Plus Dining", a fixed-price meal plan that covers one snack, one counter-service, and one table-service meal per day. Many of Disney's high-profile "Signature Restaurants" require two table-service credits per meal, and we declined to make reservations at those locations, sticking instead to one credit = one meal. After experiencing many of the best ranked one credit establishments, we are definitely open to exploring Disney's Signature Restaurants on our next visit, with or without a meal plan.
Our first table-service meal was at Boma – Flavors of Africa, a buffet-style restaurant designed to resemble an African marketplace and located at the exotically themed Animal Kingdom Lodge. Boma's buffet features food prepared with an African flair and inspired by seasonal dishes from more than 50 African countries. By the time we made it to the restaurant, we were exhausted from our early morning flight, an afternoon at Epcot, and a 90 minute bus ride from the Yacht Club Resort (including a transfer at the Ticket and Transportation Center), and the delicious food really hit the spot. Boma set the bar high for our subsequent meals and remains at the top of our list of Disney restaurants. After dinner, we spent time exploring the Lodge which is one of Disney's most attractively themed and highly rated Moderate Resorts.
Our second table-service meal was a midday lunch at Epcot. Located in the same pavilion as two of my favorite Finding Nemo-themed attractions, "The Seas With Nemo & Friends" and "Turtle Talk With Crush", the Coral Reef Restaurant is less known for its seafood entrees as it is for its intimate underwater-view of a massive saltwater tank featuring dozens of species of fish – as well as sharks, sting rays, and sea turtles. Our meal was very satisfying, and although we weren't seated next to a window, the restaurant's three platforms of seating ensures that every table has a view of the tank. Our waitress was very friendly, and when she found out we were on our Honeymoon, she brought us two "Best Wishes"-themed desserts at the end of the meal.
During a long day at Hollywood Studios, we lunched at Hollywood & Vine, a casual, American-style buffet. There are few table-service restaurants at Hollywood Studios, and this was the least memorable meal of our trip. The Art-Deco wall murals may be inspired by Hollywood's Golden Age, but the food is standard fare. While Hollywood & Vine is a step up from cafeteria-style restaurant chains like Piccadilly, nothing that we ate was particularly excellent; merely decent. The next time we dine at Hollywood Studios, we'll either go for a counter-service establishment or we'll try the kitschy 50's Primetime Café where the wait staff, dressed like 50's housewives, remind you to mind your manners and keep your elbows off the tables.
Our first dining experience in Epcot's World Showcase was at Les Chefs de France, sister restaurant to Bistro de Paris, and located under the Eiffel Tower in the France Pavilion. The restaurant is suitably romantic, especially in the late evening hours when the restaurant lights are dimmed during Epcot's spectacular fireworks show, IllumiNations: Reflections of Earth. We were lucky enough to get a window seat for the spectacle and enjoyed it immensely while sipping on French wine and eating scrumptious soupe a l'oignon gratinee and filet de boeuf grille. Four times a day, six days a week, Les Chefs de France offers a delightful surprise when Chef Remy, star of Ratatouille and Disney's smallest Audio-Animatronics figure, makes the rounds to dance, sing, greet guests, and pose for pictures.
Located in the Japan Pavilion at Epcot, Teppan Edo is a Japanese restaurant in the traditional Teppanyaki style in which chefs use large, flat iron griddles to cook food in front of restaurant guests. Teppan Edo's Western-style teppanyaki menu includes steak, shrimp, Ebi (large shrimp – delicious!), scallops, chicken, udon noodles, and rice. It was delightful to watch our chef show off as he cooked for our table, a performance which included an impressive show of flipping knives and making the ever-popular onion ring volcano of fire. The food at Teppan Edo is simple, but delicious, and made even better by the pleasure of seeing a professional chef in action. This was one of the best dining experiences of our trip, and we'll definitely go again.
The high-spirited Biergarten Restaurant in Epcot's Germany Pavilion is great for meat-lovers, beer-drinkers, and families alike. Oktoberfest is celebrated year-round, and the buffet-style Biergarten Restaurant offers traditional German dishes, including bratwurst, red cabbage sauerkraut, pork schnitzel, and Bavarian cheesecake, as well as plenty of German beers and German wines produced along the Rhine. The restaurant's interior is inspired by a Bavarian Village, and throughout the day, a traditional oom-pah-pah band plays with performers dressed in lederhosen. There is a dance floor in front of the band's stage, and during our dinner, children of all ages were having a blast dancing with their parents and each other throughout the performance. The buffet was delicious, and the communal tables inspired delightful conversations with our fellow table mates.
Even though we booked our dinner reservations six weeks in advance of our trip, we weren't able to get reservations for Epcot's very popular Le Cellier Steakhouse in the Canada Pavilion. Because our resort's signature restaurant, the Yachtsman Steakhouse was a two-credit meal, we settled instead for a last-minute reservation at Shutters at Old Port Royale in the Caribbean Beach Resort. The New York Strip steak came highly recommended, and while we can't compare our meal with Le Cellier or the Yachtsman, our steaks hit the spot. The basket of bread with delicious cilantro butter at the start of the meal was also a standout. The Caribbean Resort is not as highly themed as the Animal Kingdom Lodge or as elegant as the Deluxe Resorts, but for anyone staying here, we'd recommend at least one meal at Shutters.
Our last World Showcase dining experience at Epcot was San Angel Inn in the Mexico Pavilion. We began our evening with a boat ride past the restaurant's signature Mayan Pyramid and other sights and sounds of Mexico while on the "Gran Fiesta Tour Starring the Three Caballeros" ride. After the ride, we sat down in the restaurant's perpetual twilight, overlooking the Pyramid and a distant, smoking volcano. The view, as well as the restaurant's gorgeous blue and golden hues, make it one of the most romantically themed table-service restaurants at Disney World. Our meal was excellent, beginning with the tacos de pato al pastor appetizer and followed by the mole poblano. The traditional top-shelf margaritas were strong and refreshing and a perfect compliment to the spicy mole sauce.
On our last day at Disney World, we spent the morning traveling between Epcot and the Deluxe Resorts along the monorail route to check out the Grand Floridian, the Contemporary, and the Polynesian Resorts. Our midday meal was at the Polynesian Resort's casual Kona Café for an Asian-infused American and Hawaiian dishes. I went for the grilled Mahi Mahi Polynesian Plate Lunch and found the meal light and satisfying, while Matthew enjoyed the Asian noodles. The most memorable part of the meal was the ridiculous Kona Kone dessert – a waffle cone filled with ice cream, topped with chocolate sauce, and nestled in cotton candy and a liberal amount of Mickey head-shaped sprinkles and M&M-sized candy coated chocolate bites. The sugar overload kept me energized through midnight Magic Hours at the Magic Kingdom and the end of our trip.
Restaurants we are excited to try on our next Disney vacation include the Polynesian Resort's 'Ohana, the Animal Kingdom Lodge's Jiko – the Cooking Place, the Contemporary Resort's California Grill, and of course, the Be Our Guest Restaurant at the Magic Kingdom!