Tokyo Disney Assists During Crisis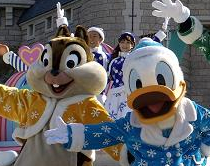 The Walt Disney Parks and Resorts division of the Walt Disney Company prides itself on the hospitality and friendliness of its park employees, affectionately known as "cast members". The cast members of Japan's two Disney theme parks, Tokyo Disneyland and Tokyo DisneySea, recently had the opportunity to prove themselves in the aftermath of the devastating Tohoku Pacific Earthquake on March 11th, 2011.
Amidst the unfolding tragedy, Twitter offered an outlet for the people of Japan to connect with their family and friends and to share their experiences with millions of concerned world citizens. Often these Twitter feeds featured messages of hope and reports of kind deeds, both large and small, as friends and strangers banded together to survive the aftermath of the earthquake and ensuing tsunami.
This Posterous blog entry shares some of these uplifting tweets, translated into English, including several messages about experiences at the Tokyo Disney parks.
"Tokyo Disneyland was handing out its shops' food and drinks for free to the stranded people nearby. I saw a bunch of snobby looking highschool girls walking away with large portions of it and initially thought "What the …" But I later I found out they were taking them to the families with little children at emergency evacuation areas. Very perceptive of them, and a very kind thing to do indeed."
"My daughter who was staying at DisneySea just made it back home! Many, many thanks to the staff who worked very hard in the cold with ready smiles that made her to feel safe and secure during the entire night. They brought her food, drinks, snacks, heating pads, and anything necessary to ensure she was comfortable and secure throughout her stay. I was touched by the Disney staff's warmth and hospitality. Thank you so much!"
"Amazing! My brother just managed to get home from Disneyland right now. He's got bags and bags of free sweets. Furthermore, Disneyland paid for every customer's travel fare back. All night long, the staff responded immediately and fully to every request he made. Disneyland is truly a world class brand!"
Thank you, indeed, to the Walt Disney Parks and Resorts and the Tokyo Disney cast members for their support of citizens in need and for reminding us of the true spirit of Disney!
Both of the Tokyo Disney parks closed for (a presumed) ten days to carry out emergency safety checks. The reopening of the parks has yet to be announced.