Sharpay's Fabulous Adventure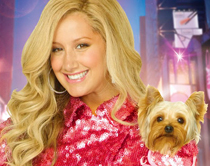 The High School Musical franchise has launched three High School Musical films, a reality series (High School Musical: Get in the Picture), a concert tour, a stage musical, an ice tour, a book series, numerous video games, and now a direct-to-DVD spin-off film starring Disney Channel darling Ashley Tisdale who reprises her role as ambitious blonde diva Sharpay Evans.
In Sharpay's Fabulous Adventure (out today on DVD and Blu-ray), Sharpay is finally Broadway-bound after a producer scouts her dog Boi during a musical performance at the Lava Springs Country Club. Sharpay moves to New York City, convinced that fame, fortune, and a fabulous penthouse apartment await, only to realize that the Big Apple is a dog-eat-dog world and the path to stardom is not an easy one. As one of the main antagonists in the first two High School Musical films, Sharpay is the narcissistic prima donna that everyone loves to hate, and the spin-off presents a new challenge for Tisdale to show the softer side of Sharpay… which should be a cinch for the actress who spent three years as lovable candy-counter girl Maddie Fitzpatrick on The Suite Life of Zack and Cody.
The promotional images, which feature a stylishly coiffed Sharpay clad in pink from head-to-toe and posing with her adorable canine bestie, make the film look like a cross between Legally Blonde and Hilary Duff's Material Girls, and it's fair to assume that the modest production budget will put it more in line with the latter than the former. As a spin-off with a direct-to-DVD release, the film will likely be little more than mildly diverting fun, but High School Musical fans who just can't get enough of Tisdale as Sharpay should be pleased. And for musical-lovers who find the toe-tapping numbers in Sharpay's Fabulous Adventure as irresistible as the ones in HSM, a six-song digital CD is currently available for $4.99 on iTunes, with an eight-song soundtrack CD planned for release on May 17th, 2011.
Visit the official website of Sharpay's Fabulous Adventure for games, discounts, downloads, and more behind-the-scenes information on the cast and crew.
For High School Musical fans looking for the next, next big thing… that would be Madison High, a 2012 TV series spin-off starring Alyson Reed who is reprising her role of Ms. Darbus, the drama teacher from High School Musical. The series will follow Ms. Darbus and her Madison High theater students as they create musical productions based on their lives.