Family Movies NOT By Disney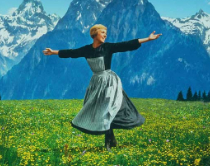 Recently, I visited my old blog and I stumbled across an entry I wrote about the children's book Chitty Chitty Bang Bang which inspired the movie musical of the same name. I was embarrassed to see that I had incorrectly attributed the film to Walt Disney Studios, when it was actually produced and distributed by EON Productions and United Artists. But my mistake is understandable. Chitty Chitty Bang Bang is a magical, family-friendly musical starring Dick Van Dyke and released in 1968, four years after the release of that other magical, family-friendly musical starring Dick Van Dyke: Disney's Mary Poppins (1964).
When I was growing up, my VHS home video collection was an equal mix of Disney- and non-Disney productions, and even though I know my Disney Animated Classics by heart, I'm still a little iffy on which live action films from my childhood were made by Disney and which weren't.
As a companion piece to Animated Movies NOT By Disney, I present some of the live action family-friendly favorites from my childhood that had nothing whatsoever to do with Disney. What are some films that you were surprised to discover weren't made by Disney?
FAMILY-FRIENDLY MOVIES NOT BY DISNEY

The Adventures of Milo and Otis
(1986)

Produced by:
Fuji Television Network

Distributed by:
Toho
Columbia Pictures

Annie
(1982)

Produced by:
Rastar

Distributed by:
Columbia Pictures

Babe
(1995)

Produced by:
Kennedy Miller Productions

Distributed by:
Universal Pictures

Beethoven
(1992)

Produced by:
Northern Lights Entertainment

Distributed by:
Universal Pictures

Big
(1988)

Produced by:
Gracie Films
Playtone

Distributed by:
20th Century Fox

Casper
(1995)

Produced by:
Amblin Entertainment
The Harvey Entertainment Company

Distributed by:
Universal Pictures

Chitty Chitty Bang Bang
(1968)

Produced by:
EON Productions

Distributed by:
United Artists

Fly Away Home
(1996)

Produced by:
Columbia Pictures
Sandollar Productions

Distributed by:
Columbia Pictures

Home Alone
(1990)

Produced by:
Hughes Entertainment

Distributed by:
20th Century Fox

Little Giants
(1994)

Produced by:
Amblin Entertainment

Distributed by:
Warner Bros.

A Little Princess
(1995)

Produced by:
Mark Johnson Productions
Baltimore Pictures

Distributed by:
Warner Bros.

Little Women
(1994)

Produced by:
DiNovi Pictures

Distributed by:
Columbia Pictures

Matilda
(1996)

Produced by:
Jersey Films

Distributed by:
TriStar Pictures

Oliver!
(1968)

Produced by:
Romulus Films

Distributed by:
Columbia Pictures

Richie Rich
(1994)

Produced by:
Silver Pictures
Davis Entertainment
Harvey Entertainment

Distributed by:
Warner Bros. Family Entertainment

Rookie of the Year
(1993)

Produced by:
Twentieth Century Fox Film Corporation

Distributed by:
20th Century Fox

The Secret Garden
(1993)

Produced by:
American Zoetrope

Distributed by:
Warner Bros. Family Entertainment

The Sound of Music
(1965)

Produced by:
Robert Wise Productions
Argyle Enterprises

Distributed by:
20th Century Fox

Willy Wonka & the Chocolate Factory
(1971)

Produced by:
Wolper Productions

Distributed by:
Paramount Pictures
Warner Bros.

The Wizard of Oz
(1939)

Produced by:
Metro-Goldwyn-Mayer
Loew's

Distributed by:
Metro-Goldwyn-Mayer