Pirates 4: Mermaids and Money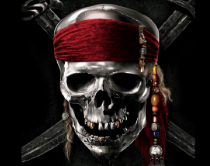 Anyone concerned that poor critical reviews (33% rotten on Rotten Tomatoes) or the absence of franchise stars Kiera Knightly and Orlando Bloom would keep Pirates of the Caribbean: On Stranger Tides from being a mega hit can rest easy.
The fourth installment in the Pirates franchise may have performed weakly by domestic standards (only $236 million to date as compared to $305 million for The Curse of the Black Pearl, $309 million for At World's End, and a whopping $423 million for Dead Man's Chest), but it was only the second Pirates film to break the $1 billion mark worldwide, and only the eighth film overall, including three others by Disney: Pirates of the Caribbean: Dead Man's Chest (2006), Alice in Wonderland (2010), and Toy Story 3 (2010). On Stranger Tides was the first of the franchise to be shot and screened in 3D, and the film's considerable box office success was helped by 3D and IMAX premium ticket prices.
While The Curse of the Black Pearl continues to be my favorite of the Pirates movies, I found On Stranger Tides to be just shy of par with the second and third films. The infusion of mythology (Fountain of Youth) and historical figures (Blackbeard) was still heavy handed, and while I found Blackbeard to be a more intriguing villain than the slimy, spitty Davy Jones, the most interesting aspects of his character (magic powers! ships in a bottle! father figure!) were glossed over for the yawn-inducing (and cliched) death-by-one-legged-man prophecy.
Filling the shoes of spitfire Elizabeth Swann is spitfire Angelica Malon (Penelope Cruz), and in place of hunky, straight-laced Will Turner is hunky, straight-laced Philip (Sam Claflin). The absence of the somewhat-tired Elizabeth-Will romance made room for new love stories to emerge, and the Philip-Syrena affair, conducted mostly in longing looks, was quite lovely. Angelica and Jack Sparrow made for an exciting pair in theory, but their relationship wasn't given much room to develop. Penelope Cruz is sexy enough to sizzle with anyone, but her sizzle with Johnny Depp was never much more than a tease. Ah well, maybe in Pirates 5!
It was nice to see Disney, a company whose animation renaissance was kicked off by the fantastic The Little Mermaid (1989), step out of its fairy tale comfort zone and approach the mermaid mythology in a new way. The scenes with the dark, deadly sirens of On Stranger Tides were haunting to watch, especially when the creepy Amanda Seyfried look-alike (Gemma Ward) shows her true face. Syrena (Astrid Berges-Frisbey) was perfectly cast: vulnerable, otherworldly, and beautiful, and her story was one of the few worthy of continuing in an inevitable fifth installment.
As inappropriate as it may be as a movie tie-in, for a few weeks in June, the Pirates League at the Magic Kingdom Park featured a limited-time deluxe "Mermaid Transformation Package" ($29.95) which transformed girls of all ages into ethereal and mysterious sirens of the seas. Hopefully the iridescent makeup, hair accessories, and nail lacquer sets didn't come packaged with fangs or seaweed lassos to help the girls ensnare their male victims and drag them down to the depths of the sea to devour them, like the mermaids in the film.
Although it's only been in theaters for nine weeks, Disney Movie Rewards is already taking pre-orders for On Stranger Tides on DVD and Blu-ray, set for release on October 18th. The 2-disc combo package will include LEGO Animated Shorts: Captain Jack's Brick Tales as a tie-in to the LEGO Pirates of the Caribbean video game and playsets. The more expensive 5-disc Blu-ray package will include several featurettes and deleted and extended scenes with introductions by director Rob Marshall.
Speaking of extended scenes… Like its three predecessors, On Stranger Tides features an extra scene for movie goers patient enough to sit through the painfully long end credits. Surprisingly, my husband and I were the only ones in our theater to wait it out, but that's probably because of how easy it is to find extra scenes on YouTube these days.