Countdown to Disney Honeymoon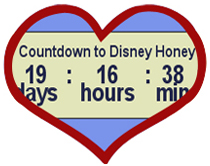 About a week before Valentine's Day this past February, I dreamed that my boyfriend took me to Disney World for a romantic Valentine's weekend.
The weekend trip didn't become reality, but in the six months that have passed, my boyfriend and I were engaged and married, and our romantic weekend reverie has transformed into an amazing nine day honeymoon to all of the Disney theme parks, Universal Studios and Islands of Adventure, and Discovery Cove. We are staying at the Yacht Club, one of Disney's deluxe resorts, and we couldn't be more excited.
It's been a looooong six months, but the wait is almost over! The final countdown has begun!
My anticipation has built up so much these past few months that I decided to give my Disney obsession a new outlet. Welcome to Blogging Disney, a brand new resource for Disney news, pictures, and retrospectives!
Sites to Visit When Planning Your Disney Wedding & Honeymoon:

Disney Fairy Tale Weddings is the official Disney site for planning unforgettable fairytale weddings and honeymoons at the Disney resorts, parks, and cruise line.

Disney Bridal features gorgeous wedding dresses inspired by your favorite Disney Princesses, including Ariel, Cinderella, Belle, Jasmine, and Tiana. With prices ranging from several hundred to several thousand dollars, these gowns should fit most wedding budgets.

Disney's Honeymoon Registry is the official place to register your Disney wedding and honeymoon. Couples can create a customizable wedding website, keep track of "thank you"s online, and download announcement cards, bridal shower games, and more.

The Disney Weddings Blog was conceived as a way to share wedding tips, information, and photos of real Disney weddings after the founder celebrated her own wedding at Walt Disney World in 2009.

The Disney Food Blog shares examples of anniversary and honeymoon treats provided by some of Walt Disney World's top restaurants to celebrating couples. I hope you have a sweet tooth and are ready to indulge!