Best Restaurants at Disney World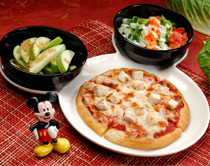 One of the Disney World Resort's most popular features is the Disney Dining Plan with offers resort guests a quick service meal, table service meal, and snack for each night of their stay at $40/day per person. For many family vacationers, the Disney theme parks are infamous for their overpriced, greasy fried foods, and few park guests take advantage of Disney's diverse food offerings outside of the pizza, hamburgers, chicken strips, and fries that are so ubiquitous.
One of Disney's best kept secrets is the abundance of quality restaurants throughout the resort, from the Animal Kingdom Lodge to all four theme parks, and even Downtown Disney. Many of the restaurants are so good, in fact, that four of them (Victoria & Albert's, 'Ohana, Le Cellier Steakhouse, and Earl of Sandwich) are ranked in the top ten best rated Orlando restaurants by Trip Advisor reviewers. Disney's sit down restaurants require advanced reservations, and Dining Plan guests are allowed to start booking their reservations as far as 180 days (six months!) in advance.
Prior to booking my own reservations, I did a lot of research online to see which restaurants were most recommended. Although I visited Disney World a number of times in my youth, my family never took advantage of the Disney restaurants so I am very much a novice when it comes to the best Disney eats.
Some resources that were particularly helpful to me:
About.com: Theme Parks
Top Ten Best Disney World Table Service Restaurants
Top Ten Best Disney World Casual Restaurants
Epinions.com
Top Ten Best Places to Eat at Disney World
Disneyworld.disney.go
Disney Dining Plan Information & Restaurant Reservations
The advice I kept reading was that it's VERY important to book your dining plans as far in advance as you can. I was a bit preoccupied with wedding preparations over the summer and didn't book my reservations until around 45 days before my trip. I'll admit that I was surprised by how many restaurants had ZERO availability during my off-peak September stay. We weren't interested in any of the Character meals (which were probably all booked), but we did miss out on seeing the Magic Kingdom fireworks from the 15th floor at California Grill and juicy Canadian steaks cooked to perfection at Le Cellier Steakhouse. Ah, well! I am still very much looking forward to all of the restaurants we were able to snag.
Our dining plan:
Sit Down Restaurants (reservations required):
Boma – Flavors of Africa, Disney's Animal Kingdom Lodge
Coral Reef Restaurant, Epcot
Hollywood & Vine, Hollywood Studios
Les Chefs de France, Epcot
Teppan Edo, Epcot
Biergarten Restaurant, Epcot
San Angel Inn, Epcot
Kona Cafe, Disney's Polynesian Resort
Quick Service Meals (no reservations necessary):
Earl of Sandwich, Downtown Disney
Cosmic Ray's Starlight Cafe, Magic Kingdom
ABC Commissary, Hollywood Studios
Yak and Yeti, Animal Kingdom (unfortunately, Flametree Barbeque is closed during our stay)
Pecos Bill Tall Tale Inn, Magic Kingdom
Ale and Compass, Yacht Club
Sunshine Seasons, Epcot