Pinocchio Celebrates 70 Years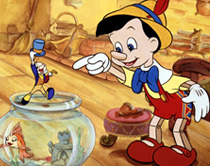 It's hard to believe that the Disney animated classic, Pinocchio, about a puppet's journey to become a real boy, was made in 1940, 70 years ago. 1940…that was five years before the end of World War II, 25 years before the Voting Rights Act of 1965, 29 years before man first walked on the moon (and 46 years before the Space Shuttle Challenger explosion), and 68 years before Barack Obama was elected as the 44th President of the United States of America.
A whole lotta history has passed since Pinocchio's first theatrical release, but what's amazing is how little the film shows its age. Sure, the rampant juvenile delinquency is rare in G-rated films these days, but as far as technical sophistication goes, Pinocchio stands the test of time, especially when beautifully remastered on DVD and Blu-ray. And for those of you who think "When You Wish Upon a Star" is Pinocchio's greatest contribution to music, well, you've clearly never gotten "Hi-Diddle-Dee-Dee (An Actor's Life for Me)" stuck in your head for hours on end.
I just recently re-watched Pinocchio for the first time in more than a decade, and it was the perfect followup to my visit to Disneyland earlier this summer. Pinocchio's Daring Journey is a dark ride featured at Disneyland California (as well as Disneyland Tokyo and Disneyland France), and the trippy, well-themed ride is now one of my top Fantasyland attractions, just edging out Mr. Toad's Wild Ride, and beating Snow White's Scary Adventure by a long shot.
Pinocchio the film was fun to revisit as an adult because I had forgotten how naughty the puppet behaves when he succumbs to temptation. Pinocchio lies, skips school, drinks, smokes, plays pool, participates in the vandalism of a model home (alleged), insults the intelligence of actors, and sets the inside of a whale on fire.
Yep, he's a real boy, alright!
Disney Classics Currently Available on DVD:

Snow White and the Seven Dwarfs (1937)
Pinocchio: 70th Anniversary Platinum Edition (1940)
Alice in Wonderland (1951)
Sleeping Beauty: 50th Anniversary Platinum Edition (1959, limited time release)
The Sword in the Stone: 40th Anniversary (1963)
The Rescuers (1977)
Oliver and Company: 20th Anniversary Edition (1988)
Beauty and the Beast (1991, available starting October 5th)
The Hunchback of Notre Dame (1996)
Lilo and Stitch (2002)