Hollywood Studios…Then & Now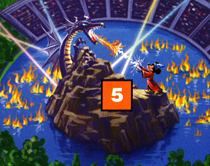 The biggest change to Disney's Hollywood Studios (formerly Disney's MGM Studios) in the last decade isn't the park's name. MGM Studios was officially rechristened Hollywood Studios in January 2008 after years of litigation with the now defunct MGM Studios over the use of the MGM brand name in the park which doubled as a working production studio.
In the two brochures below from 2000 and 2010, you can see another major park change, in addition to all of the new attractions. The iconic Earful Tower, a Hollywood-inspired model water tower, was replaced in 2001 by a giant replica of The Sorcerer's Hat from Fantasia (1940), now the new official symbol for the park. The Earful Tower is still in the park and can be viewed by guests while on the Studio Backlot Tour.
MGM Studios Guide Map: 2000
Hollywood Studios Guide Map: 2010
No Longer There
What's New
Disney's Doug Live
The Hunchback of Notre Dame: A Musical Adventure
Bear in the Big Blue House: Live on Stage
Backstage Pass to 101 Dalmatians
The American Idol Experience
Lights, Motors, Action!
Toy Story Midway Mania
Journey Into Narnia: Prince Caspian
Walt Disney: One Man's Dream
Playhouse Disney: Live on Stage!
High School Musical 3: Right Here! Right Now!