Disney-Inspired Wedding Dresses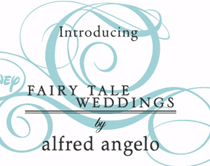 Disney recently announced a new line of princess-inspired wedding gowns by designer Alfred Angelo. The collection officially debuted on October 2nd and will be available to peruse (and purchase?) on the official website, www.disneybridal.com in 2011. While the website is under construction, covetous brides-to-be can feast their eyes on footage from the collection's first photo shoot which is racking up views on Youtube.
The revelation that these princess gowns are more bridal basic than Disney-esq will be disappointing to some hard-core fans and a relief to wedding traditionalists. The new designs don't replicate the brilliant yellow and sparkly blue ballgowns that Belle and Cinderella are famous for. They're much less gaudy and more… white.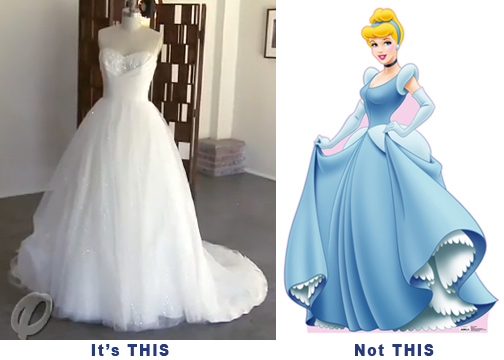 The Angelo collection isn't Disney's first foray into bridal designs and it surely won't be the last. A 2008 snarky Jezebel article appraises the 2007 Disney Bridal collection by designer Kirstie Kelly who created three gowns each for the princesses Ariel, Belle, Cinderella, Jasmine, Sleeping Beauty, and Snow White – 18 dresses in all! Kelly's high-end collection was originally priced between $1,100 and $3,500, but the new Angelo gowns are more moderately priced between $600 and $1200, putting them within range of many dream wedding budgets.
A press release from The Walt Disney Company describes the Angelo gowns as follows:
The treasures of the sea inspired Ariel's gown. The mermaid silhouette features re-embroidered lace, pearl beading, and sequin sparkles.
Aurora/Sleeping Beauty's gown is romantic with a dreamy, willowy skirt for this slumbering princess.
Belle's wedding dress, with a draped waistline is inspired by the iconic ballroom dance scene from the film and focuses on making a grand entrance.
Cinderella's gown radiates with sparkle as its inspiration is the fairy tale's enchanted glass slipper.
Jasmine's wedding dress conveys freedom and individuality and as a result her shimmering soft satin gown is exotic with a bejeweled neckline and low cut back.
Snow White's dress is inspired by nature, beauty and grace like the Disney Princess character herself.
The regal, one-shoulder taffeta gown for our newest princess, Tiana, reflects her independent spirit with an asymmetric bodice and ruched skirt.
The dresses from the Kelly and Angelo collections are tasteful, elegant, and uncontroversial. Although bona fide Disney fanatics won't care about controversy when they go for the gold standard in gowns. Who's the princess now?