Disney's First 3D Video Game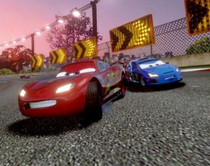 On June 21st, 2011, three days before the American box office debut of Disney/Pixar's Cars 2, Disney will release Cars 2: The Video Game on all five major game consoles: XBox 360, Nintendo Wii, PC, PlayStation 3, and Nintendo DS.
Cars 2: The Video Game will allow players to become one of twenty different characters and explore dozens of locations from the Cars 2 universe as they train to become a super spy agent of C.H.R.O.M.E. (Command Headquarters for Recon Operations and Motorized Espionage). While the original Cars video game focused on players winning 50 races in the Piston Cup, the gameplay in Cars 2 has been expanded so that players can take on dangerous missions, become the fastest racecar in the world, and use spy skills in action-packed combat racing.
This highly anticipated video game is from Disney Interactive Studios and the makers of the award-winning Toy Story 3: The Video Game. The PlayStation 3 version of the game will feature full 3D support, a first for a Disney Interactive video game. The PS3 game can detect a connection to a 3D TV and will automatically adjust settings so players can experience all of the gameplay in 3D, including the 4-way split screen that allows up to four players to compete against each other.
Visit Disney's official Cars 2: The Video Game website
Watch the Cars 2: The Video Game trailer on Youtube