Radio Disney Celebrates 15 Years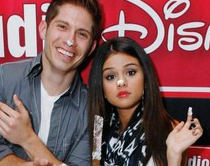 Fifteen years ago when Radio Disney first debuted, Selena Gomez was in preschool, Justin Bieber was in diapers, and Willow Smith hadn't even been born. Back then there were no iPods, iPhones, or iTunes, and streaming music online and through mobile applications was inconceivable. In the late '90s, the Dallas-based network and its affiliates played the latest hits from fresh-faced former Mickey Mouse Club stars Britney Spears, Justin Timberlake, and Christina Aguilera, as well as pop sensations the Backstreet Boys, Spice Girls, and Hanson.
Now that Radio Disney is celebrating its 15th birthday, the technology and celebrities may have changed, but Radio Disney's core mission to promote Disney-approved performers and properties through kid-friendly, contemporary mass market music remains the same.
On Monday, Selena Gomez helped kick off Radio Disney's birthday celebration in a special Take Over with Ernie D appearance which included an acoustic performance of her new single "Who Says". Upcoming birthday guest stars include Willow Smith, Jordin Sparks, Greyson Chance, Cody Simpson, Ashley Tisdale, Austin Butler, and cast members from Shake It Up, Good Luck Charlie, and Lemonade Mouth. Radio Disney will also showcase memorable moments with artists from its past and play Flashback songs throughout the day featuring the hits of former Radio Disney celebrities such as Britney Spears, Hilary Duff, Will Smith, Beyonce, and Pink.
And last but not least, Radio Disney is inviting listeners to "Pick Your Present" all month long with daily prize giveaways including iPads, iPod Touches, Wii Consoles, Flip Cams, $50 gift cards, and acoustic guitars signed by Selena Gomez, Allstar Weekend, and Willow Smith. The call-in giveaways are happening now through April 30th, Monday through Friday. Don't miss your chance to win one of the fabulous prizes!