'Mars Needs Moms' Bombs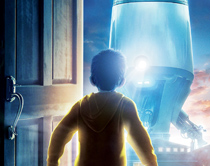 Twenty-four days into its release, Disney's latest film, the sci-fi animated feature Mars Needs Moms, is barely hanging on to 10th place at the box office after another meager domestic haul of $2.3 million. The film's domestic $6.9 million opening weekend was a major disappointment for Disney's Buena Vista, and with a current international box office tally of only $34.35 million, it is unlikely Mars Needs Moms will recuperate much more of its estimated $175 million production and marketing budget.
The film utilizes the same performance capture techniques as producer Robert Zemeckis's earlier 3-D computer animated films The Polar Express (2004), Beowulf (2007), and Disney's A Christmas Carol (2009). While the technology has improved since the days of a stiff and glassy-eyed Tom Hanks in The Polar Express, the animated characters in Zemeckis's films are often at the precipice of the "uncanny valley", the hypothetical point at which life-like renderings of humans shift from being appealing to eerily repulsive. But whether the film's creepily realistic animation style had as much of an effect on low audience turnout as poor marketing and luke-warm critical reception is unclear.
What is clear is that Walt Disney Studios isn't impressed with Zemeckis's recent track record. Three days after Mars Needs Moms's weak box office debut (and a year after announcing the closure of Zemeckis's ImageMovers Digital studio), Disney announced that the studio is dropping Zemeckis's planned remake of The Beatles's Yellow Submarine (1968), which was set to use the same performance capture technology as Mars Needs Moms. Zemeckis is now free to shop the remake around other studios, but he has yet to find a new distributor to fill Disney's void.
Mars Needs Mom isn't Disney's first sci-fi animated failure and currently ranks 4th on Box Office Mojo's "Showdown: Sci-Fi Animated Bombs", along with Disney's Treasure Planet (2002), which ranks 2nd.