Lightning McQueen at Hollywood Studios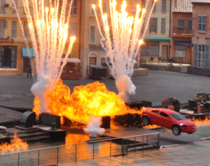 At the box office, Cars 2 is far from Pixar's most well-received film, being ranked dead-last in critical appeal (37% on Rotten Tomatoes), and performing sluggishly both domestically and worldwide, with a current total haul of $317.3M, as compared with mega-hits like Up ($731.3M), Finding Nemo ($867.8M), and Toy Story 3 ($1,063.1M). But Cars merchandise continue to be some of Disney's best-selling, and the characters are featured in a multitude of new products that can be found in bedrooms, bathrooms, and classrooms around the globe.
Recently, stars Lightning McQueen and Mater made appearances at the 2011 Epcot International Flower and Garden Festival this past spring, and now Lightning McQueen is appearing at nearby Hollywood Studios as a featured performer in the "Lights, Motors, Action! Extreme Stunt Show".
For the uninitiated, "Lights, Motors, Action! Extreme Stunt Show" is a 33-minute, choreographed stunt show located in the Hollywood Studios Backlot and featuring vehicle stunts (ie: chases, jumps, gun fights, and fiery explosions) with amazing split-second precision. According to the official webpage, the stunt vehicles are highly-modified Opel brand cars which are propelled by 1,300 cc, 150-horsepower motorcycle engines and which feature a unique gear system (4 forward, 4 reverse). The show opened in 2005, three years after the "Moteurs… Action! Stunt Show Spectacular" opened in Disneyland Paris.
The show's latest incarnation has replaced Herbie the Love Bug's cameo with Lightning McQueen from Pixar's Cars and Cars 2. During the performance, the stunt crew is setting up for another shot while a Lightning McQueen highlight reel plays on the big screen. The reel is interrupted by a distress call from tow truck Mater warning Lightning McQueen about enemy spy activity in the area. McQueen then appears and so does a suspicious black vehicle armed with missles, and a playful cat and mouse game ensues as McQueen searches for the spy car who is always just around the corner and out of sight. DisUnplugged's review of the new "Lights, Motors, Action!" features a number of photographs of Lightning McQueen in action.
The video below is a recording of McQueen's appearance at the "Moteurs… Action! Stunt Show Spectacular" show in Disneyland Paris. The video's audio is in a mix of French and English, but the story is easy to follow even if you're not a Francophone.
Before and after the show, park guests can pose for pictures with Lighting McQueen and Mater at the new "Winner's Circle" (formerly Luigi's Garage), which features trophies and posters depicting famous races from around the world.