Customized Keepsake Maps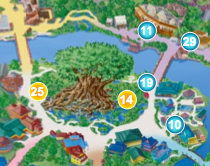 The Walt Disney Company excels at bringing magic to life and helping families create lifelong memories of enchantment and wonder. For a price.
As anyone who has ever been to Disney World can attest, Disney has commoditized every experience imaginable, from PhotoPasses and private tours to princess makeovers at the Bibbidi Bobbidi Boutique. Disney has a million ways to wring every last cent from families willing to invest more in their vacation than the price of theme park tickets.
And now, in addition to the hundreds of customizable gifts you can design and purchase at DisneyPhotoPass.com, you can customize your own Disney World Keepsake Maps. Only this time, the maps are free. Yes, FREE.
After signing into your online Disney account at CustomizedMaps.disney.go.com, you can customize a map for each of Disney World's four theme parks: The Magic Kingdom, Hollywood Studios, Epcot, and The Animal Kingdom. Just like the traditional park maps, the attractions are numbered, and your family's favorite rides, restaurants, and shows are the only ones that will appear on your customized maps.
After you've selected your park favorites, you can customize your map theme with a "classic" border featuring a bronze icon of the park on the left-hand side or a "character" border featuring Dumbo for The Magic Kingdom, Nemo for Epcot, Woody for Hollywood Studios, and Simba for The Animal Kingdom.
When your maps are finished you can print them at home or have them shipped to you. I tried printing my maps, but even though my home printer is excellent, the quality of the printout was poor and very pixelated. I have placed an order for the maps to be shipped instead, hoping that the quality will be better. The website says to allow 2-4 weeks for shipping and warns that maps can only be ordered every six month, although you can self-print as many versions as you'd like.
After customizing the park maps for both home printing and shipping, I can verify that YES, the maps are 100% FREE – including the shipping! Like the magic of the Disney parks, it's almost too good to be true.
8/13/11 EDIT:

One week after I placed my order, the customized maps came in the mail, and they are fantastic! The maps are approximately 14″x20″ and printed front and back: Disney's Hollywood Studios has Disney's Animal Kingdom Park on the back side, and the Magic Kingdom map is back to back with Epcot. There is an additional fifth map of the entire Walt Disney World Resort which shows the layout of the theme parks, water parks, and all of the Disney resorts.

The paper and print quality are far superior to what I managed to get at home, and unlike the maps I printed, these maps are customized with the family's surname and include a list of all of the park attractions along with the ones chosen as "Favorites". A set of stickers were included to mark even more favorite attractions on our next visit!

If you're a Disney fan, I would highly recommend you order your own set of maps before or after your next Disney World vacation, but I wouldn't carry them around while touring the parks because they are sure to get damaged, and you can only order one set every six months. The maps make great keepsakes for displaying or scrapbooking with your other Disney memories. And best of all, they're FREE!