Rapunzel is Disney's Newest Princess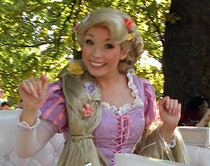 Ever since the perky, doe-eyed Rapunzel flounced onto theater screens in Tangled (2010), no one doubted that the royal beauty was a bona fide Disney Princess. But it wasn't until October 2nd, 2011 that Rapunzel officially joined the ranks as the tenth "Disney Princess" during a beautiful coronation ceremony at Kensington Palace in London, England.
Surrounded by the exquisite Kensington Gardens, Kensington Palace is the official residence of many British Royals, including the new Duke and Duchess of Cambridge (Prince William and Princess Kate) who married in a lavish fairytale wedding this past April. No one would deny that Kensington Palace is quite the proper place for a Disney Princess to be crowned, and the other nine Disney Princesses (Snow White, Aurora, Cinderella, Ariel, Belle, Jasmine, Pocahontas, Mulan, and Tiana) were in attendance for this first-ever grand coronation event.
Disney's Inside the Magic videographers captured excellent footage of the Disney Princesses traveling by horse-drawn carriages to the coronation event (see the video shot by Alex Jessop and Disney below). An estimated 10,000 Disney fans lined the procession route and hundreds of young girls who were dressed as their favorite princesses were thrilled at the opportunity to see all of their favorite Princesses on such a momentous occasion. Another Tangled star joined the cavalcade as Maximus, a gorgeous white palace horse, marched with the procession ahead of Rapunzel's carriage.
More than 100 girls from 25 countries were specially chosen to witness Rapunzel's crowning by Fairy Godmother and Flynn Rider, and they later they participated in lantern making and storytelling activities. Visit InsidetheMagic.net for fantastic photographs from the coronation event.
To celebrate Rapunzel's coronation, Disney Publishing Worldwide has released Disney Princess: Royal Party, a brand new iPad app for users in the US and the UK starring all ten of the Disney Princesses. Currently priced at a special $4.99 introductory offer, the interactive storybook app features a range of games and activities including a read-along story, matching games, video clips, crafts, puzzles, and digital stickers welcoming Rapunzel as the newest Disney Princess.
Disney Princess: Royal Party, as advertised in the App Store:

Read along with Rapunzel on a brand new original adventure.
Create your own Crown and bake tasty Princess Cupcakes.
Make magical scenes of your own with all the Disney Princesses.
Create and share invitations for your own exciting party!
Enjoy fun coloring pages with Rapunzel and all the Disney Princesses!
Solve Puzzles of scenes from Tangled and get to know Rapunzel's friends, Flynn, Maximus and Pascal.
And don't forget to look for more treasures hidden in the app!