When Avatar and Disney Collide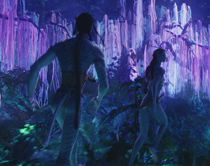 In December 2009, Avatar, a mega-hit blockbuster was released in theaters where it demolished domestic and worldwide box office records for a staggering haul of $2.7 billion dollars, $900 million more than Titanic (1997), the previous worldwide record holder.
But James Cameron's Avatar did more than break records. Thanks to its phenomenal visual effects, majestic scenery, and a narrative that focused on the preservation of a culture strongly connected to the natural world, the film inspired a generation of fans, many of whom wished that the fantastical planet Pandora and its native inhabitants, the Na'vi, really existed.
For many Avatar fans, these wishes may just come true. There are two sequels in the works, Avatar 2 (2014) and Avatar 3 (2015), which will revisit the perilous and devastatingly beautiful Pandora, last seen when Corporal Jake Tully and a band of Na'vi warriors defended the planet from the destructive greed of Colonel Miles Quaritch and the RDA mining operation. With three more years for Cameron's crew to spend enhancing the augmented reality and visual effects technologies, the Pandora of 2014 and 2015 is likely to be even more immersive and awe-inspiring than the Pandora of 2009.
Even more exciting is the announcement that Avatar attractions will soon appear at Disney theme parks thanks to Walt Disney Parks and Resorts' new deal with James Cameron and Fox Filmed Entertainment. Disney is partnering with Cameron and his producing partner Jon Landau to create Avatar-themed lands that will give park visitors a chance to explore the unique universe of Pandora.
The first planned Avatar attraction is set to begin construction at Walt Disney World's Animal Kingdom Park in 2013. The Avatar attraction will focus on living in harmony with nature and should fit well with the other themed lands and the Animal Kingdom's philosophy of animal conservation, education, and research.
In 2010, the Animal Kingdom held the distinction of being the tenth most visited theme park in the world (after the Magic Kingdom, Disneyland, Tokyo Disneyland, Tokyo Disneysea, Epcot, and Disneyland Paris), and a new Avatar attraction is sure to further boost park attendance thanks to the rabid film fanbase. An Avatar attraction could be to the Animal Kingdom what the Wizarding World of Harry Potter is to Universal's Islands of Adventure, which saw a +30% surge in visitors after the attraction opened in 2010.
Fortunately, Disney doesn't have to worry about competitor Universal Studios making its own Avatar deal, as under the new agreement, Disney holds the exclusive worldwide rights to the Avatar franchise and all future Avatar theme park attractions.