International Food & Wine Festival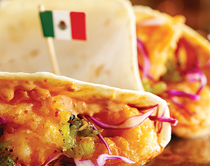 If you are visiting Epcot this fall, make sure you come hungry.
This year, the 16th Epcot International Food & Wine Festival begins on September 30th and runs through November 13th. The 45-day festival is a celebration of food and wine from around the world, including the eleven countries represented in Epcot's World Showcase: Canada, Mexico, Norway, Morocco, China, Germany, Italy, Japan, France, the United Kingdom, and the United States.
When my husband and I visited Disney World for our honeymoon last fall, we were disappointed to discover that we missed the beginning of the Food & Wine Festival by less than a week. The food and wine tasting booths were already in place and the event flags were hanging, but alas, we were not able to eat.
If you plan to attend this year's Festival, you can pick up a Marketplace Discovery Passport at the Festival Welcome Center, and whenever you eat at the international marketplace, you will receive a unique stamp on your passport. At the end of your stay, you can take your passport home as a fun keepsake and a memory of the exotic and delicious foods that you sampled.
This year's Festival features three new marketplaces with food from Hawaii, Portugal, and the Caribbean, and in addition to a sumptuous feast of international cuisine, Festival visitors will also have the opportunity to attend celebrity cooking demonstrations, book signings, food tastings, demonstrations, and other special events.
In "A Festival to Savor", Disney Insider goes in depth on many of the special offerings at this year's Festival, including The Discovery of Chocolate, "a decadent (but educational!) opportunity to sample chocolate and chocolate dishes paired with beverages, all under the guidance of a professional chocolatier."
Additional one-of-a-kind opportunities include the chance to sample and purchase Crave, a brand-new dessert liquer that won't be released to the public until 2012, and the opportunity to purchase the 2011 Festival Cookbook which features 50 incredible recipes inspired by the Festival offerings. In the Magic of Healthy Living Dinner demonstration on October 29th, three celebrity chefs (Andrew Zimmern, Chris Cosentino, and Bryan Voltaggio) will be cooking with their sons as they are challenged to prepare meals that are both family-friendly and easy to make at home.
If you can't wait for September 30th to roll around, head to Epcot for the First Bites Opening Reception on September 29th which features special guest Chef Keegan Gerhard of the Food Network. At the Opening Reception, Festival early birds will be able to preview samplings from the international marketplace which will go on sale the following day.
DIS (wdwinfo.com) is a great resource for finding out more about the Epcot International Food & Wine Festival. Their incredible overview of the Festival includes a list of scheduled performers, festival events, premium dining experiences, and most importantly, a full list of the Festival Marketplaces and the hundreds of international foods that are available to consume.
Eat, drink, and be merry!