A Tribute to Disney Dads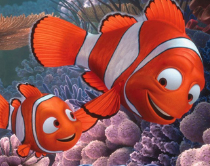 From Snow White and the Seven Dwarfs to Tangled, there has been a long history of Disney characters who were motherless, fatherless, or orphaned, and characters who suffered the wrath of evil stepmothers and manipulative caretakers in place of parents who loved them. But today is Father's Day (not Take Your Evil Stepmother to Work Day), and there are several wonderful Disney Dads who deserve to be recognized for their dedication to their families and the sacrifices that they have made for their children.
And so, I present you with ten of the best Disney Dads from some of Disney's greatest classic and animated films. Are there any other Disney Dads you would add to the list?
THE BEST DISNEY DADS

Geppetto



Pinocchio, 1940

Geppetto is a lonely toy maker who dreams of being a father, and the Blue Fairy grants him his wish by bringing the wooden marionette Pinocchio to life. When Pinocchio is led astray and becomes a captive on Pleasure Island, Geppetto shows his dedication by venturing out to sea to rescue him, only to be swallowed by a giant whale. Pinocchio comes to his father's rescue and is finally transformed into a real boy. It is Pinocchio's selflessness and bravery that the Blue Fairy ultimately rewards, but it was Geppetto's love that brought Pinocchio to life in the first place.

Father



Swiss Family Robinson, 1960

When his family is stranded on a deserted island, Father helps his wife and three sons to create a spectacular home-away-from-home using provisions from the wrecked ship and food that is harvested from the island. He sets a good example for his sons on how to treat the lovely young Roberta, and when the family is attacked by pirates, Father organizes the family's defenses and helps his sons protect their home using ingeniously designed traps and handmade weapons. "Father" may not have a name, but he possesses many qualities of a great dad: he's brave, hardworking, and dedicated to his family.

Pongo



One Hundred and One Dalmatians, 1961

When he is bored of the bachelor life, Pongo arranges for his master to find a mate so he can too, and soon, Pongo and his dalmatian wife Perdita are parents to no less than fifteen puppies. When the puppies are kidnapped, Pongo is quick to act, and he and Perdita go to their rescue and end up as protectors of no less than eighty-four other puppies. With 99 puppies in his care and the villainous Cruella De Vil to thwart, Pongo proves that he is a capable and loving father and as willing to fight for other puppies in need as for his own flesh and blood. Fortunately for Pongo, his master Roger is the one who will be paying for all the puppy chow!

George Banks



Mary Poppins, 1964

When he first hires Mary Poppins as a nanny for his two children, Jane and Michael, George Banks is a negligent father, more focused on his career at the bank than on raising his children who desperately long for his affection. Fortunately for Mr. Banks, nanny Mary Poppins and jack-of-all-trades Bert are a magical pair, and the two help him to realize that nothing is more important than his family. When the winds change and Mary Poppins leaves, it is clear that she is no longer needed as both Mr. and Mrs. Banks are ready to dedicate themselves to their children once again and spend a day in the park flying kites.

King Triton



The Little Mermaid, 1989

King Triton may not understand his youngest daughter Ariel and her desire to be a part of the human world, but even when he forbids her to go to the surface, he does so with her best interest at heart. When Ariel ends up as the sea witch Ursula's prisoner, King Triton bargains with Ursula, offering to trade his freedom for Ariel's. His noble sacrifice gives Ursula command over his trident and the sea, but she is destroyed at last by the human Prince Eric. In the end, King Triton must finally do what fathers throughout history have done: give his daughter away to the man that she will marry, and he does so with love and graciousness, finally accepting that his little princess is all grown up.

Maurice



Beauty and the Beast, 1991

Maurice may be a bit of a bumbling, absent-minded inventor, but he loves his daughter Belle wholeheartedly. When Maurice gets lost on the way to the fair to sell one of his inventions and ends up a captive of the Beast, Belle offers her life in exchange for his – a common theme in Disney films. Maurice tries to rouse the village to come to Belle's rescue, but when his pleas are ignored, he goes to Belle's rescue on his own. Even a forest full of wolves and a fearsome Beast can't keep Maurice from trying to protect his beloved daughter.

Mufasa



The Lion King, 1994

Mufasa, king of the lions, has much to teach his young son Simba about the balance of the Circle of Life and the kings in the stars who will offer him guidance if he needs it. But after he saves his son from a stampede of wildebeest, Mufasa's life is cut short by his wicked brother Scar, and Simba flees the Pride Lands to a life free of worries and responsibilities. When an adult Simba is informed of the suffering that Scar has brought on the other lions, he seeks out his father's wisdom. Even after death, Mufasa is able to guide his son and to remind him of his duty to his pride. Simba reclaims his rightful rule and becomes a mighty king, thanks to the example set by his father.

Goofy



A Goofy Movie, 1995

In his first feature-length film, Goofy is desperate to have a better relationship with his teenage son Max who is embarrassed to be related to him. Goofy plans a father-son fishing trip to Idaho, but Max wants nothing more than to go to Los Angeles where his favorite rock star, Powerline, is performing. After a series of misadventures along the way, their relationship is rekindled, and when he realizes that Max promised his friends he'd appear on stage with Powerline, Goofy makes it happen and proves that even the best dads can be a little goofy sometimes.

Marlin



Finding Nemo, 2003

After a barracuda attack kills his wife and their clutch of 400 eggs, clown fish Marlin becomes extremely overprotective of his one surviving son, Nemo. When Nemo is captured by a deep sea diver and ends up in a fish tank in Sydney, Australia, Marlin journeys across the ocean to save him. Along the way, he befriends the forgetful Dory, surfs the East Australian Current with giant sea turtles, and survives encounters with sharks, jellyfish, angler fish, and a giant whale. When father and son are finally reunited, Marlin is able to accept that to be a good father, he has to step back and let Nemo become his own person… er, fish.

Bob Parr



The Incredibles, 2004

Husband and father of three Bob Parr is literally Mr. Incredible. He's super strong, but when he's forced to give up his crime-fighting days, he sinks into a dispirited rut and only recovers when given the chance to resume his superhero activity in secret. Fearing the worse, his wife Helen pursues him with their kids in tow, and the entire family is soon threatened by an evil mastermind. When his children are in danger, Bob proves that being a great father is about more than being a superhero, it's about making sacrifices and putting your family's health and well-being above all other things.
May these awesome Disney Dads continue to inspire great dads everywhere. Happy Father's Day!