The Lion King Roars Out of the Vault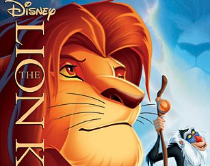 The Lion King, Disney's most successful traditionally animated film, winner of two Academy Awards, and currently ranked 33rd in the All Time Worldwide Box Office, will finally make it to Blu-ray in 2011. The Lion King was previously released from the Disney Vault as a Platinum Special Edition VHS and DVD in 2003, before being locked away again in January, 2005. And now, Disney has announced that after almost six years in Moratorium, The Lion King will roar out of the Vault once again in Fall 2011.
Even bigger news: On September 16th, 17 years after its original 1994 release, The Lion King will return to theaters nationwide in Disney Digital 3D. The two-week limited engagement is the first time The Lion King has appeared in theaters since the 2002 IMAX release which featured a brand-new musical sequence, "Morning Report". The film's return to the big screen will allow a whole new generation of children to fall in love with the Hamlet-inspired tale of the lion cub who is destined to be king.
The 3D theatrical release will be followed by the October 4th release of the Diamond Edition of The Lion King in HD Blu-ray and Blu-ray 3D in the US and Canada, and the November 15th release of the DVD-only Edition. As always, Disney plans to release the film in several different Blu-ray/DVD combo packages to meet various home entertainment needs, all of which are currently available to pre-order from Amazon.com.
While waiting for The Lion King's return in the Fall, fans can get their Simba-fix with The Lion King Musical, Disney's long-running theatrical hit that is currently on stage in New York, Las Vegas, London, Madrid, Hamburg, Toyko, Singapore, and On Tour. Check out the tour schedule below to see if the musical is coming to a theater near you, and enjoy the sneak peek of the musical below!
The Lion King Musical: On Tour

City

Dates

Dayton, Ohio

June 14th – July 10th, 2011

Ottawa, Ontario

July 14th – August 7th, 2011

Montreal, Quebec

August 9th – September 4th, 2011

Syracuse, New York

September 6th – August 2nd, 2011

Buffalo, New York

October 4th – October 30th, 2011

Denver, Colorado

November 2nd – December 4th, 2011

Baltimore, Maryland

December 7th – January 8th, 2012

Minneapolis, Minnesota

January 11th – February 12th, 2012

Richmond, Virginia

February 15th – March 11th, 2012

New Orleans, Louisiana

March 14th – April 15th, 2012

Orlando, Florida

April 17th – May 13th, 2012

Miami, Florida

May 17th – June 10th, 2012

Greenville, South Carolina

June 12th – July 8th, 2012

Houston, Texas

July 10th – August 12th, 2012

St. Louis, Missouri

August 15th – September 2nd, 2012