Make Your Mark: Ultimate Dance Off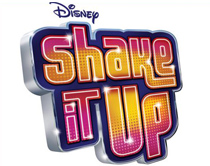 From a recent string of tween-friendly musical series, it's clear that the Disney Channel loves music stars. First there was Hannah Montana, then Jonas L.A., and the cast of I'm In the Band (not to mention made-for-TV movies Lemonade Mouth, Camp Rock, and the High School Musical franchise). But the Disney Channel's recent foray into the world of popular music, Shake It Up, is the first to focus on dancing rather than singing.
Shake It Up is a sitcom that follows the adventures of best friends CeCe Jones and Rocky Blue (played by stars Bella Thorne and Zendaya) who pursue their dreams of becoming professional dancers when they land dancing roles on a local series, Shake It Up Chicago.
And now the Disney Channel is offering an opportunity for other aspiring young dancers to follow in the footsteps of CeCe Jones and Rocky Blue by launching a kid/tween talent competition, Make Your Mark: Ultimate Dance Off 'Shake It Up' Edition. The winner of the competition will appear on an episode of Shake It Up which has just begun production on its second season.

From Friday, July 1st through Wednesday, August 3rd, aspiring dancers aged 8-16 (with parental permission) can go to MakeYourMark.disney.go.com/ to create and submit a 45 second dance video featuring up to five performers showing off their choreographed or freestyle dance moves. Other kids will be able to "like" their favorite videos with the most popular being featured weekly online and on TV.

The five-city talent search for dancers for the series begins in LA (on July 7th) and then heads to Chicago (July 9th), San Francisco (July 16th), Atlanta (July 23rd), and Detroit (July 30th). In August, six finalists will be announced on the Disney Channel and those finalists will compete head-to-head in front of celebrity judges when Make Your Mark: Ultimate Dance Off premieres in October. Viewers will be able to vote on the winner from the three final contestants.

The Make Your Mark site hasn't officially launched yet, but in the meantime, dancers can practice their moves with online step-by-step instructional dance videos from the Shake It Up choreographer. There are already ten instructional videos online, with new videos posted on Wednesdays, Fridays, and Saturdays.
"Watch Me", a new music video featuring Shake It Up stars Bella Thorne and Zendaya, will premiere on the Disney Channel on Friday, June 17th, with the digital single becoming available for purchase the following Tuesday. The Shake It Up: Break It Down CD and DVD combo pack which includes the first series soundtrack, the "Watch Me" music video, and a series of instructional dance videos, will be released on July 12th.
The online Shake It Up Dance Video Creator lets players create their own music videos by setting character dance sequences, backgrounds, and special effects to songs from the series. The controls aren't very sophisticated and there's only a handful of dance sequences and backgrounds to choose from, but it's a fun diversion to try along with the Dance Burst (aka: "click the glowing squares") game.
And even if dancing's not your thing, it's all but impossible to watch the Shake It Up cast having a blast, without wanting to groove along with them.