Enchanted Tiki Room Revival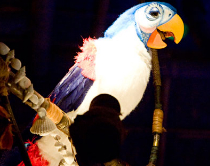 When Walt Disney's Enchanted Tiki Room opened at Disneyland in 1963, it was the first to feature audio-animatronics, paving the way for hundreds of future attractions and great advancements in audio-animatronic technology over the next fifty years.
The original Enchanted Tiki Room featured a cast of 150 animatronic birds, flowers, and tiki totem poles who dance and sing to the show's signature theme, "The Tiki Tiki Tiki Room", as well as "Let's All Sing Like the Birdies Sing", and "Hawaiian War Chant". The attraction closed for renovations in 2004 and reopened again in 2005 with digitally remastered audio and brand new audio-animatronics, although the original storyline remained.
A virtually identical Tiki Room show (called Tropical Serenade) opened at Disney World in 1971 as one of the Magic Kingdom's first attractions. 27 years later, the Disney World attraction was replaced with an updated version in 1998, known as The Enchanted Tiki Room (Under New Management), and featuring the wise-talking parrot Iago from Aladdin and the prudish hornbill Zazu from The Lion King as the new owners of the Tiki Room.
In The Enchanted Tiki Room (Under New Management), the Tiki Birds begin to sing as usual until they are interrupted by Iago with the announcement that he is taking over and plans to replace all of the out-dated tunes with songs that modern audiences will enjoy. Zazu warns Iago to keep it down or the Tiki Gods will get angry, and when Iago refuses, Uh-Oa, the Tiki Goddess of Disaster, appears and curses Iago who vanishes in a cloud of smoke. The Tiki Gods perform, and when they are finished, an injured Iago reemerges and admits that the Tiki Gods are the greatest act he's ever heard and that the show is sure to make a gold mine.
Despite its 1998 update, The Enchanted Tiki Room (Under New Management) has been one of the Disney World attractions with the poorest attendance, and some Disney fans actively boycott the show, preferring the original, Disneyland version.
When the main Iago animatronic was severely damaged in an attic fire on January 12th, 2011, there was speculation on Twitter that Uh-Oa and the other Tiki Gods had finally gotten their vengeance against the bird who ruined their show. The attraction closed for several months and is scheduled to reopen on August 15th as Walt Disney's Enchanted Tiki Room.
Fans of the original should be happy to hear that the attraction's newest incarnation will undo the changes made in Under New Management, bringing the Enchanted Tiki Room back to a version reminiscent of the original 1963/1971 attractions. So long Iago and Zazu, and hello "Tiki Tiki Tiki Room" theme song!
For an idea of what Walt Disney's Enchanted Tiki Room will look like when it finally reopens, check out the recording of the Disneyland version below.
The Tiki Tiki Tiki Room Lyrics:

In the Tiki Tiki Tiki Tiki Tiki Room
In the Tiki Tiki Tiki Tiki Tiki Room
All the birds sing words and the flowers croon
In the Tiki Tiki Tiki Tiki Tiki Room

Welcome to our tropical hideaway, you lucky people you!
If we weren't in the show starting right away,
We'd be in the audience too
All together!

In the Tiki Tiki Tiki Tiki Tiki Room
In the Tiki Tiki Tiki Tiki Tiki Room
All the birds sing words and the flowers croon
In the Tiki Tiki Tiki Tiki Tiki Room

The boys in the back are kamikaze
Because of their claws?
No, because they're macaws
And our fine feathered friend is a jolly toucan
And two can sound better than one toucan can

The bird of paradise is an elegant bird
It likes to be seen and it loves to be heard
Most little birdies will fly away
But the Tiki Room birds are here every day

Our show is delightful we hope you'll agree
We hope that it fills you with pleasure and glee
Because if we don't make you feel like that
We're gonna wind up on the lady's hat

In the Tiki Tiki Tiki Tiki Tiki Room
In the Tiki Tiki Tiki Tiki Tiki Room
All the birds sing words and the flowers croon
In the Tiki Tiki Tiki Tiki Tiki Room

Our magnificent production is yet to come
So strum the guitar and beat the drum
We've been hit and we know you adore us
So come on and join us in another chorus

In the Tiki Tiki Tiki Tiki Tiki Room
In the Tiki Tiki Tiki Tiki Tiki Room
All the birds sing words and the flowers croon
In the Tiki Tiki Tiki Tiki Tiki Room